Looking for an incredible crazy golf venue in Newcastle? Look no further! We've compiled a list of the best venues for you to level up your golf game!
Ghetto Golf
Looking for an awesome night out you'll never forget? Well then, time to putt your money where your mouth is at Ghetto Golf Newcastle – a superb blend of the 90's hip hop scene and epic crazy golf! This seriously twisted urban eighteen-hole crazy golf is the sesh you and your friends have been after, with everything from bespoke art, amazingly challenging holes and not to mention their shot station locations around the course, allowing you and your besties a chance for a much needed refuel. After claiming ultimate victory of your round, you'll naturally have to celebrate with one of their seriously addictive cocktails. They've got something for everyone, whether that be wines, draft beers or even one of their classic cocktails (unique in each venue). The moment you step foot in this epic area of mini golf you'll know you'll be wanting to return! So what are you waiting for? Be sure to pay a visit to their website for all the essential info.
Where: The Clay Shed Hoult's Yard, Walker Road, Newcastle upon Tyne, NE6 2HL
Cost: £12 per round per person
Age: 18+
Lane7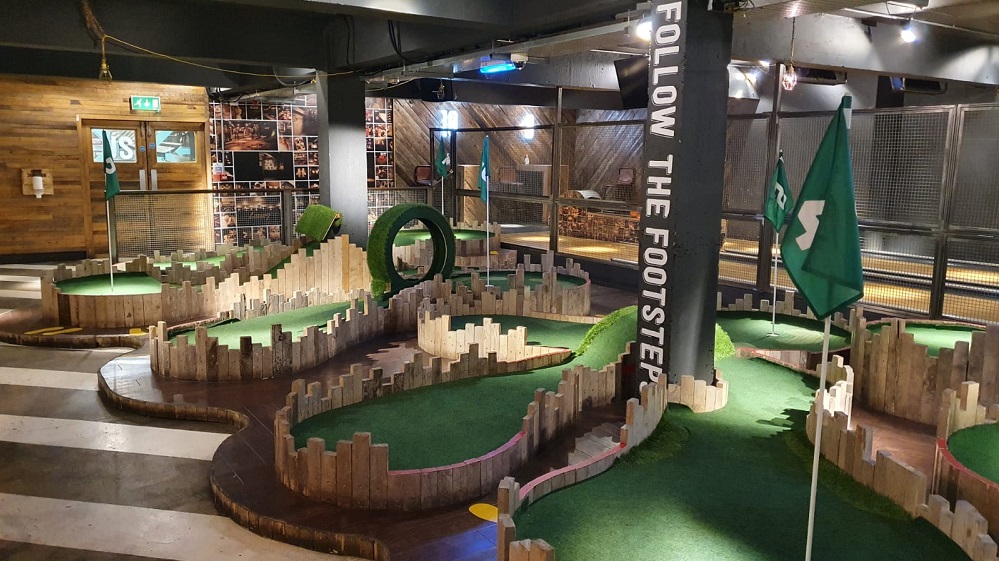 Imagine if you could enjoy a cracking game of mini golf and bowl with your mates all under one roof. Well, your prayers have been answered at Lane7 Newcastle, an insane funhouse of bowling, mini golf and much more! You're in for the classic mini golf experience, with challengingly fun holes, complete with a chance to snag ultimate bragging rights with your mates or impress your date. We're sure you'll be wanting to maximise your time out with a round of bowling down their authentic bowling lanes, a match of pool or ping pong, or a serious gaming session in their stunning arcade. Naturally, you'll need some sustenance to keep you going, so why not tuck into the quality cuisine from their on-site street food vendor (unique at every venue) – we're talking burgers, loaded fries, pizzas and more! Then to wash it down … a cocktail of your choice, as well as draft beers and wines. So, to get your trip started, you'll want to visit their website for the latest information.
Where: 80-90 St James' Boulevard, Newcastle upon Tyne, NE1 4BN
Cost: £5 a round of mini golf
Age: 18+ after 7pm
Mr Mulligans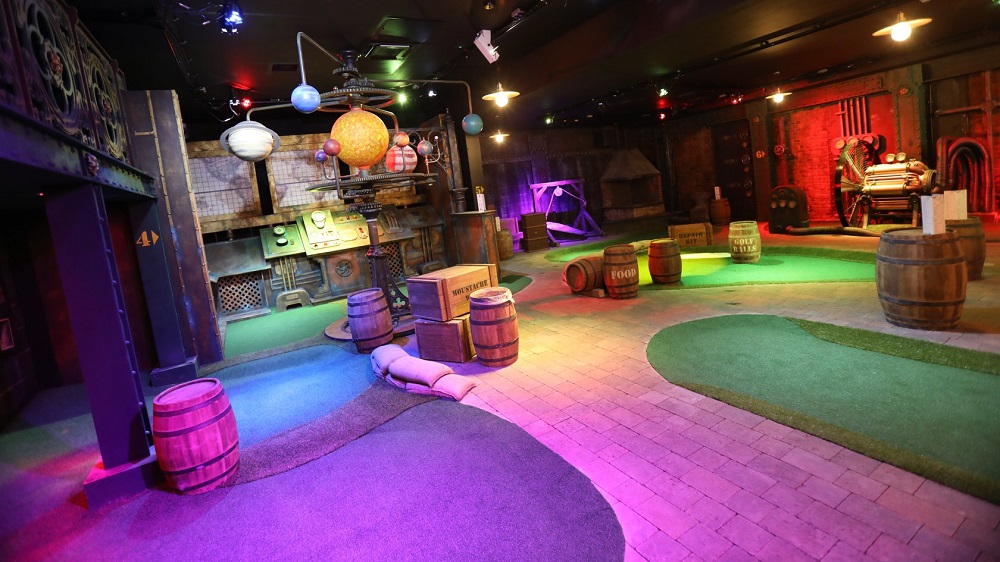 If you love space but can't afford a Blue Origin ticket just yet, Mr Mulligans in Newcastle is the next best thing! This space themed mini golf course is perfect for a day or night out sure to guarantee some stratospheric fun. Choose from either their eighteen or twenty-seven-hole course and get putting! With spinning planets, falling stars and so much more, there's never been a better excuse for a round of crazy golf. Yet the fun's not over after your round! You can also flex your hand to eye coordination with their electro darts boards or settle a friendly rivalry on one of their arcade games. Then, if you're feeling a little peckish, be sure to check out their full-service restaurant and bar for delicious food and all the cocktails your heart desires. For more information, be sure to check out their website.
Where: 117 Newgate Street, Newcastle upon Tyne, NE1 5RZ
Cost: £11 for 18 holes, £13 for 27 holes
Age: All Ages Welcome
The WonderBar
Do you guys love darts, drinks and great times? Then you'll be wanting to pay a visit to The WonderBar, the perfect mood lit sports lounge for you and your friends to enjoy on your next big night out. With multiple stunning oches, it's interactive darts like never before! Play for fun or bring the friendly competition, the choice is yours with five different game settings to choose from. Not just that, but they also offer tempting food packages as well, such as their Rookie option of one pint of beer or wine, as well as a hot sharing platter of pizza, nachos, chicken strips or French fries. You can eat,drink and throw to your heart's content (the darts not the food)! To discover more about this stellar location, be sure to visit their website for the deets.
Where: The Gate, Newgate Street, Newcastle upon Tyne, NE1 5TG
Cost: £30 for an hour of darts peak and £15 for an hour of darts off-peak
Age: 18+
Game of Throwing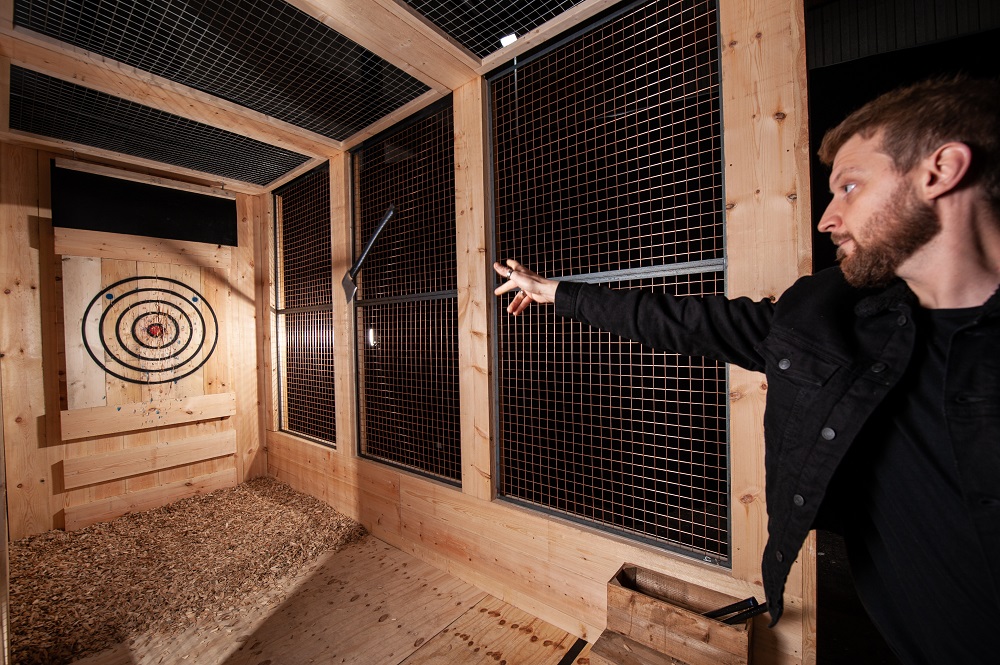 Missing Game of Thrones? We hear you. That's why we've made sure to add the epic Game of Throwing to our list. Found in The Gate on Newgate Street (well worth a visit itself), visitors are treated to an all you can throw seventy-five-minute axe-stravaganza. After your fifteen-minute training session with a qualified axe-master (is that a cool job title or what?), you're all set to master the art of chucking axe shaped projectiles at wooden targets while showcasing your best berserker screams. So to learn more and to book your lane, be sure to head on over to their website.
Where: The Gate, Newgate Street, Newcastle upon Tyne, NE1 5TG
Cost: £20 per 75 minute session
Age: 10-16 must be accompanied by an adult
Newbridge Neighbourhood Bar
Are you a sucker for shuffleboard? Well, we have the place for you. Newbridge Neighbourhood Bar is perfect if you're looking to get away from the centre and experience the local atmosphere of Newcastle in a slightly more chilled setting. A firm favourite of the Geordies, you can find them on Argyle Street. Complete with pool tables, a darts board and an authentic shuffleboard table, there is plenty to play during your stay here. Though you'll be missing out if you don't sample their food and drinks menu! A northerner's paradise, you can get anything from classic burgers to NYC inspired pies, and even a Yorkie Wrap (being in the North never tasted so good)! And to wash it down, you'll be wanting one of their many beers, spirits or wines they have on offer. So if you're a fan of live sports, fun and great food, be sure to learn more via their website.
Where: The New Bridge, 2 Argyle Street, Newcastle upon Tyne NE1 6PF
Cost: Need to check
Age: 18+