Just to clarify … when I say darts I don't want you picturing a grubby old board down the local. On the whole we're talking high-tech, multiplayer darts located in swanky venues offering exceptional food and, in most, a full cocktail bar. We're talking, a proper night out.
So if you're looking for a great night out for your date, time with your mates or to let loose with your work buds then let the Play List be your guide …
Flight Club Bloomsbury
Social darts are back, baby, and better than ever! Following the lifting of government restrictions, Flight Club Bloomsbury has reopened just in time for the summer season – complete with amazing food and drink selections, brunch socials and bottomless pizza! First opened in April 2017, this Bloomsbury venue has made its mark on the London social scene ever since, complete with drinks, darts and good times. The Bloomsbury venue screams Victoriana, with beautiful portraits, stunning murals and a spectacular carousel themed bar – the only one of its kind in London, meaning it's absolutely perfect for your Instagram stories. Fancy a game of darts with your mates? Check out their website to discover more.
Where: 55 New Oxford St, London WC1A 1BS
Cost: £21 for 60 minutes or £30 for 90 minutes
Age: 18+
Flight Club Islington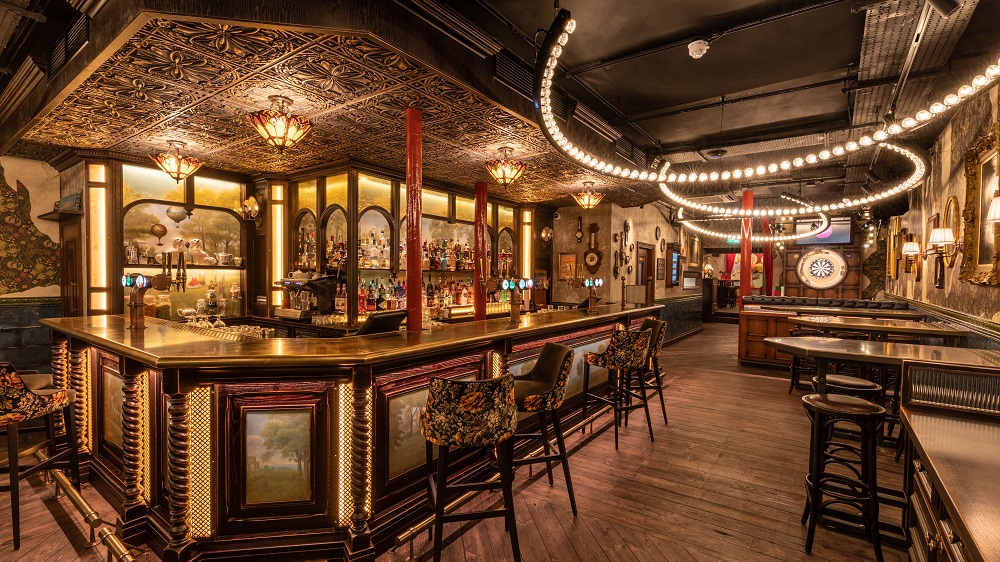 Just minutes from Angel Station on Upper Street, Flight Club Islington is another amazing addition to the Flight Club franchise. The Islington venue is kitted out just like a fairground, with a nod to the local area and the warmth and nostalgia of a British pub. If you're feeling a bit peckish, grab a sharing plate or a pizza paddle, or perhaps, if you're feeling fancy, grab a cocktail or two (did we mention that they have alcoholic slushies?). The automatic scoring system means you don't have to worry about keeping track of either your scores or the amount of drinks you've had, bringing darts to an entirely new audience. Check them out this summer for a day you won't forget.
Where: 56 Upper St, London N1 0NY
Cost: £21 for 60 minutes or £30 for 90 minutes
Age: 18+
Flight Club Shoreditch
One of London's most talked about bars, the opening of Flight Club Shoreditch marked the beginning of a new era in social darts. With lights that dance in time to the music, fairground horses and stained-glass windows, there's nothing like the Flight Club atmosphere, and there's nothing like experiencing their darts games. With options for both classic tournaments and team tournaments, it's the perfect opportunity to challenge all your mates to a game or two (losers get the next round, right?) Show off your amazing skills in front of your friends and soak up the summer atmosphere with a cocktail or three! Interested? Of course you are. You can visit their website to learn more.
Where: 2A Worship St, London EC2A 2AH
Cost: £21 for 60 minutes or £30 for 90 minutes
Age: 18+
Flight Club Victoria
Another successful venue in the Flight Club franchise, Flight Club Victoria transports you into a fantasy fairground realm, complete with delicious drinks, fantastic food and plenty of darts fun. Complete with a helter-skelter staircase, the Victoria venue has an outdoor terrace, eighteen oches and a beautiful bar, so it's the perfect place to catch up with your mates over a drink or two. If Afternoon Fizz sounds your kind of vibe, you can grab prosecco and champagne any day of the week, or maybe you're more intrigued by their sharing trophy cocktails. They also have vegan, vegetarian and gluten free food options, if you're feeling a bit hungry. Of course, they also offer the staple of amazing darts games, so get yourself down there today! Be sure to visit their website to book your slot!
Where: 6 Sir Simon Milton Square, London SW1E 5DJ
Cost: £21 for 60 minutes or £30 for 90 minutes
Age: 18+
Old Tea Warehouse
In the heart of Aldgate, nestled in amongst the pubs and bars, there's a not so hidden secret. The darts club at the Old Tea Warehouse is the perfect spot to spend your summer! Offering classic cocktails alongside craft beers and delicious pizzas, it's the best spot for a catch up over a round or two of darts. Grab an oche and enjoy a game or two over a pint. Unfortunately, they've not reopened yet, just to ensure the safety of their staff and visitors, but to be kept informed as to when they reopen, check out their website.
Where: 4-5 Fenchurch Buildings, Fenchurch St, London EC3M 5HN
Cost: £10 for off-peak £20 an hour for on-peak
Sports Bar and Grill Marylebone
Sports fan? Then Marylebone is the place for you this summer! With a wide range of drinks, including wines, lagers, cask ales and spirits, and an amazing selection of food, it's a great spot to hang out with your friends. They boast an amazing sports atmosphere, with extensive coverage from Sky and BT Sports, showing all the major national and international tournaments. With football, rugby, golf, boxing, tennis, formula one, NFL and college football, there's something on offer for everyone's taste this sporting season! If watching the sports makes you want to join in, they've also got a dartboard and a pool table, so you can go a few rounds with your friends and show off your skills. Be sure to visit their website to learn more.
Where: Melcombe Pl, London NW1 6JJ
Cost: £12 an hour for an oche
Age: Under 18's must be accompanied by an adult
The Alexandra, Darts Club Clapham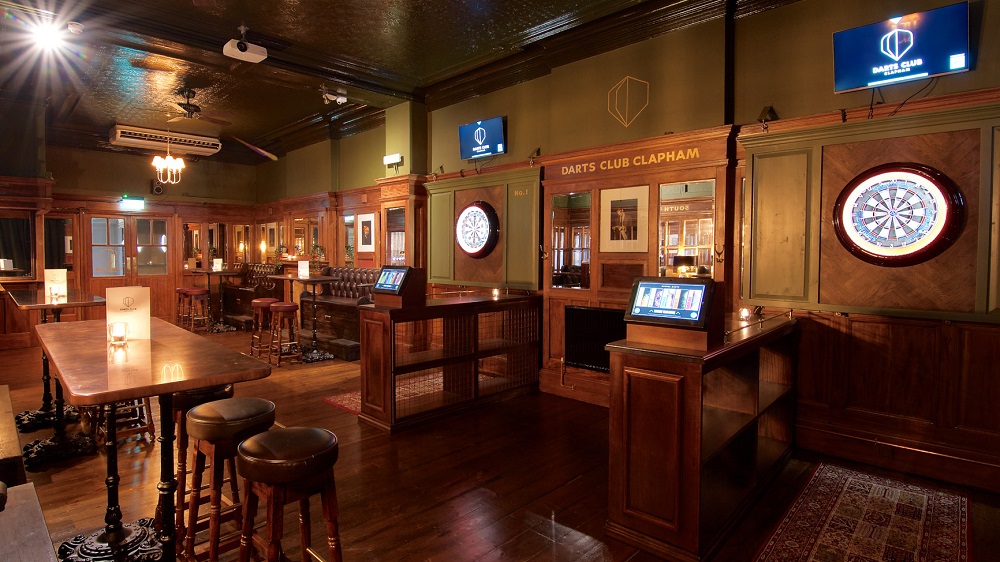 Fancy a game of darts in Clapham? Then The Alexandra is the place to be. With plenty of delicious food and drink options on offer, it's the perfect companion to a game on the oche, and a brilliant place to spend your evenings this summer. We'd definitely recommend visiting in the week as well, as they offer a pizza and a pint at the Alex, where you can grab a complimentary pint with every 12-inch pizza (perfect!) every Monday to Friday between 5-7pm. What more could you want? They're also showing all the live sport of the season, with Sky and BT Sports channels broadcasting all the action from the Premier League, Champions League and the rugby. They're also showing the European leagues and American sports if that's more to your fancy. They're also closed until later this year but be sure to stay tuned for information about their reopen (we're sure it'll be amazing). Learn more on their website.
Where: Clapham Common South Side, London SW4 7AA
Cost: £20 per hour on-peak and £10 an hour off-peak
The Rookwood Village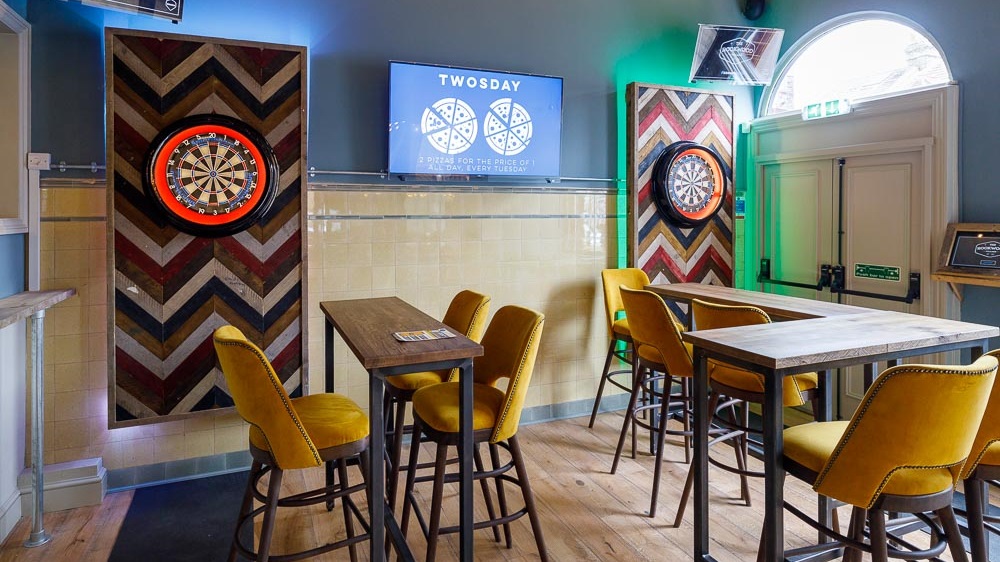 Check out the Rookwood Village for a new style of pub experience! They offer an amazing range of both alcoholic and non-alcoholic drinks (for all you designated drivers), perfectly paired with a delicious menu offering the best in pizzas, burgers, salads and sharers. On top of that, they're streaming the very best in sports on their large screen TVs, so you can catch every minute of your favourite games as they happen, but the main draw is their interactive darts experience. With a variety of different games to choose from, there's loads of fun to be had, and it's a great chance to challenge your mates for a couple of rounds of drinks. Their Hexa-Gone game challenges you to clear the darts grid in the fewest turns, or maybe you'll excel at Showtime, where if you score the most points, you win! Or perhaps, the Killer or Robin Hood games will be more your style. Perhaps Halve It? Or maybe you're amazing at a classic game of darts. Either way, we're sure you'll have a great time celebrating your win at the bar afterwards. Check out their website to find out more.
Where: 314 Cann Hall Rd, London E11 3NW
Cost: £12 an hour for an oche
Age: under 18's welcome but need to be accompanied by an adult
All information in this blog was correct at time of posting. We advise you check the venue websites, just in case.