Leeds is packed with awesome places for a great night out with your mates. In today's Play List we show you a couple of fab venues where you can play interactive darts … but we've also listed a load of other epic venues for your activity filled night out …
Flight Club
Imagine darts. You've got the traditional image in your head, right? The pub atmosphere, with a bullseye in the background and a pint or two. How about combining that with all the fun of the fair, complete with crazy new technology and a twenty first century twist? Now that's Flight Club, the all-new birthplace of social darts in Leeds that has just opened its doors to all you aspiring darts champions! Certainly not one to miss, it's a cosy little spot perfect for everything from hanging out with your mates on a drizzly afternoon to a night out for the ages! If you're after drinks, make sure to check out their extensive menu, with everything from crafted cocktails to alcoholic slushies. Interested? We thought as much. Check out their website to find out more.
Where: Sovereign House, 1-2 South Parade, Leeds, LS1 5QL
Cost: 60 minute sessions £14 for two players, 90 minute sessions £20 for two players
Age: 18+
BOX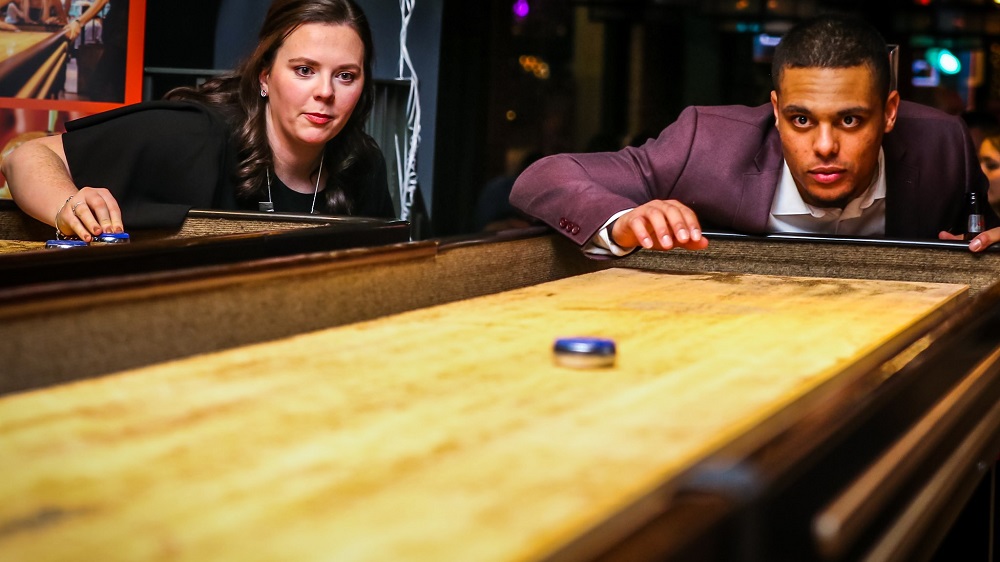 Nestled in the heart of Leeds city centre, BOX is a game-changing sports bar where you can eat, drink, play and party! Showing everything from boxing to Formula One, cricket to UFC, there's something for every taste – and how better to enjoy it than in high definition? With amazing cocktails to celebrate any occasion (the Melonade Spritz and the Elderflower Mule are especially great), it's an ideal spot to stop off at to catch the game or just for fun nights out. Not only that, but for those in the know, their private function room is home to an excellent darts board – the perfect spot to finally settle friendly rivalries between mates or just to have a go at hitting the bullseye. And if all that action makes you feel a little hungry, they also have delicious food available, perfect for either a kick-off snack or a meal with mates. To get started be sure to visit their website to discover what's on.
Where: 15 Infirmary Street, Leeds, England, LS1 2JS
Cost: £10 an hour of darts
Age: 18+ after 9pm
OTHER GREAT ACTIVITY VENUES IN LEEDS
Roxy Ball Room, Boar Lane
Roxy Ball Room is where the party's at in Leeds. With loads of crazy games on offer, as well as delicious drinks and tasty treats, it's a great spot to get your night started with a bang! Make sure to give their shuffleboard a spin, and their ping pong tables are certainly not ones to miss. How about a game of Roxy Golf? If you reckon your golf handicap is one to brag about, make sure to show it off to all your mates after a drink or two! And after all that action, you're bound to be a little hungry, right? Split a pizza or two between your mates – we've often found it's the perfect post-match pep-up! Be sure to visit their website to plan your night.
Where: 58 Boar Lane, Leeds, LS1 6HW
Cost: £10 for mini golf, £15 for shuffleboard, £15 for Ping Pong, £15 for Pool, £18 for beer pong
Age: 18+
Roxy Ball Room, Bond Street
With bowling, pool tables and beer pong available at the Bond Street Roxy Ball Room, there's plenty of opportunities to become the ultimate ball game master! Put all that excitement to good use by impressing your mates with your crazy backspin, or perhaps you've perfected the ideal trick shot? Whatever's your style, show off your skills in the contest of champions (aka a friendly rivalry between friends) and win eternal fame and glory as an amazing ball game player! Be sure to check out website to get your trip started. Please note, their Bond Street venue will be relocating to The Light on the Headrow from February 2022.
Where: 1 Bond Street, Leeds, LS1 5BQ
Cost: £10 for bowling, £15 for shuffleboard, £15 for Pool, £18 for beer pong
Age: 18+
Roxy Ball Room, Merrion Street
With not one, not two, but three fantastic venues in Leeds alone, you guys have probably got the hint that you should check out Roxy Ball Room! If you haven't already been convinced by the fantastic stuff they've got at Boar Lane and Bond Street, maybe Duck Pin Bowling will tempt you? (It's as cool as it sounds!) What about crazy pool, an awesome mashup of mini golf and pool? Maybe arcade machines are more your style? Surely their karaoke room gets you itching to grab the mic? Whatever takes your fancy, make sure to give it a go! You're in for a night you'll never forget! Find out more on their website.
Where: 9a Merrion Street, Leeds, LS1 6PQ
Cost: £10 for crazy pool,£15 for duckpin bowling, £15 for shuffleboard, £15 for Ping Pong, £15 for Pool, £18 for beer pong, £30 per hour for Karaoke and £1-2 for an Arcade Game
Age: 18+
The Malt Brewhouse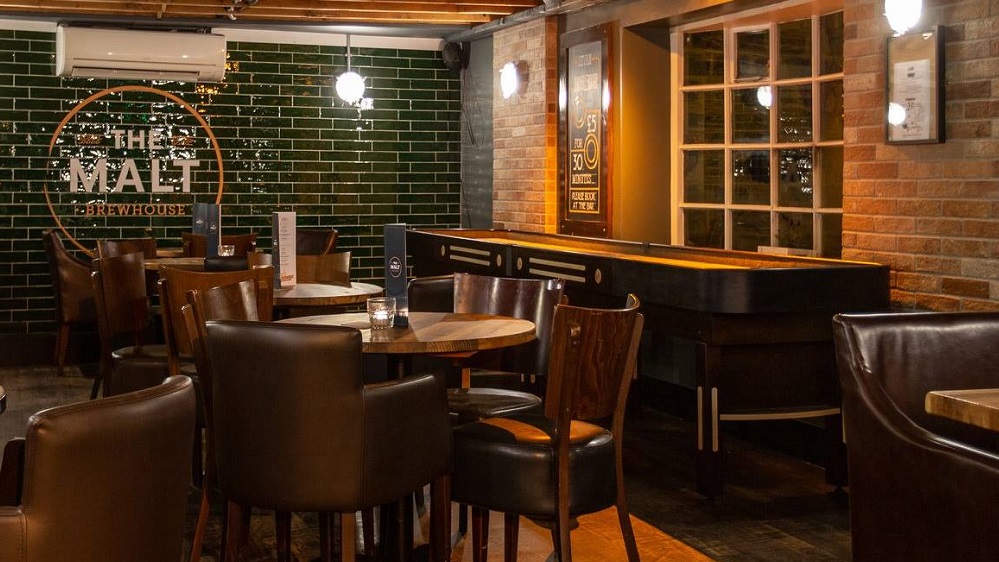 Home to Horsforth's first ever shuffleboard table and sixteen lines of beer, the Malt Brewhouse is a hipster haven, perfect for a drink with friends or catching up with family. Complete with an onsite microbrewery, beer garden and delicious pizza kitchen, there's a huge range of amazing food and drinks ideal for every occasion. Make sure to check out their live sport Sundays, where you can catch the match in comfort! And don't forget the main attraction – be sure to give the shuffleboard table a spin and challenge your mates to a game or two! Loser gets the next round, right? To get started you'll be wanting to visit their website to see what's on.
Where: 166 Town Street, Horsforth, LS18 4AQ
Cost: £5 for 30 minutes of shuffleboard
Age: 18+ after 7pm
Junkyard Golf Club
With three mashed-up crazy golf courses at their Leeds venue, you've gotta get yourselves down to Junkyard Golf! Regardless of if you're a seasoned pro or a total golf newbie, there's plenty of chances to get in on the action and transform yourselves into the next Tiger Woods! Navigate through dark fairgrounds, circus freaks and creepy clowns with their Bozo course, or perhaps take a jungle excursion through tropical madness with their Pablo course? Maybe you want to test your wits in their Gary course – complete with twists and turns through towers of tyres, written-off cars and auto junk! So what are you waiting for? Be sure to visit their website for more info if you want a night of crazy golf, mad cocktails and bad puns!
Where: The Light on the Headrow, Leeds, LS1 8TL
Cost: £8.50 per game for off-peak or £10 for peak per game
Age: 18+ after 6pm
BrewDog
A firm favourite of the Leeds crowd since 2013, BrewDog is a well-loved addition to the craft beer scene. With three venues scattered throughout the city, you're never far from a BrewDog, and that's just the way we like it! Their Crown Street venue is crammed with nostalgic board games and consoles that are perfect to crank up over a brew, and their North Street pub has three 22 foot shuffleboard tables for you to give a spin! If retro gaming is more your style, make sure to check out their pinball tables and vintage arcade machines. Have a look at their website to find out more.
Where: The White Cloth Hall, Crown Street, Leeds, LS2 7DA/(North Street) Crispin House, New York Road, Leeds LS2 7PF/(Headingley) 6 Otley Road, Headingley, Leeds, LS6 2AA
Cost: Shuffleboards are free to play (but there may be a queue)
Age: 18+