When you're ready to swing into action then you've got loads of great choices fore a tee-rrific time. If you want to find fabulous places to play mini-golf in London then we've got you sorted …
Jungle Rumble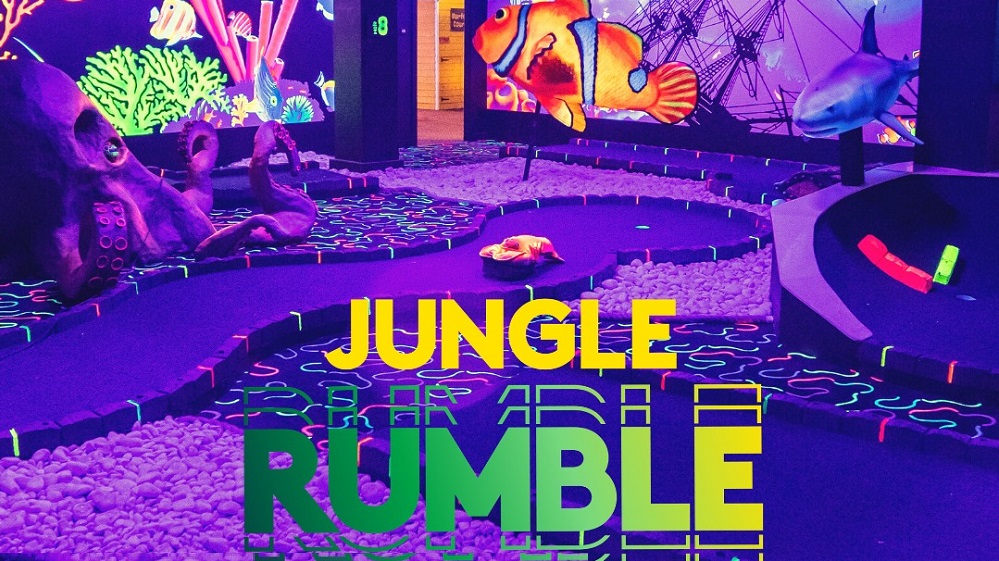 From the streets of Putney, a faint rumble can be heard. The roar of the crowd? No. The sound of city life slowly returning to normal? Wrong again. The unmistakable noise is the sound of Jungle Rumble, one of the best mini golf courses in London, which has finally reopened! With three amazing nine-hole adventure golf courses, a bar, and a huge selection of delicious food, it's perfect for any occasion: whether it's a night out with friends, a date night with 'this one' or a family day out. The Royal Tahiti course transports you to the tropical jungle, discovering amazing species and fantastic animals along the way. The Surfers course offers you the sea view, with twists and turns to challenge your golfing skills. The Ocean course takes you deep below the waves, where you can explore your own deep-sea adventure, guided by mysterious neon creatures that are there to light your way. What are you waiting for? Get on their website to book your game.
Junkyard Golf
There's a reason that Junkyard Golf is a household name. With several successful venues all around the country, it's clearly a winning formula, and there's nowhere that reflects it better than the nation's capital. Recently reopened, Junkyard Golf has four amazing courses, each with their own unique Junkyard twist. Pablo guides you through UFC bears, pirate speedboats and glitter temples, all housed in a tropical madness. Gary, on the other hand, transports you back to the magic of the 90's, with amazing tunes, a scrapyard slide and a UV garage room! Fancy a rave? Then the Dirk course is for you – a trippy all-nighter theme with distorted floors, disco dens, and furry walls. If horror is more your thing, the Bozo course is here to impress – the creepiest show on earth is back on earth, with nine holes for you to face your fears, whether it be clowns, circus freaks or fairground creeps. Interested? Of course you are. Check out their website to book.
Plonk Minigolf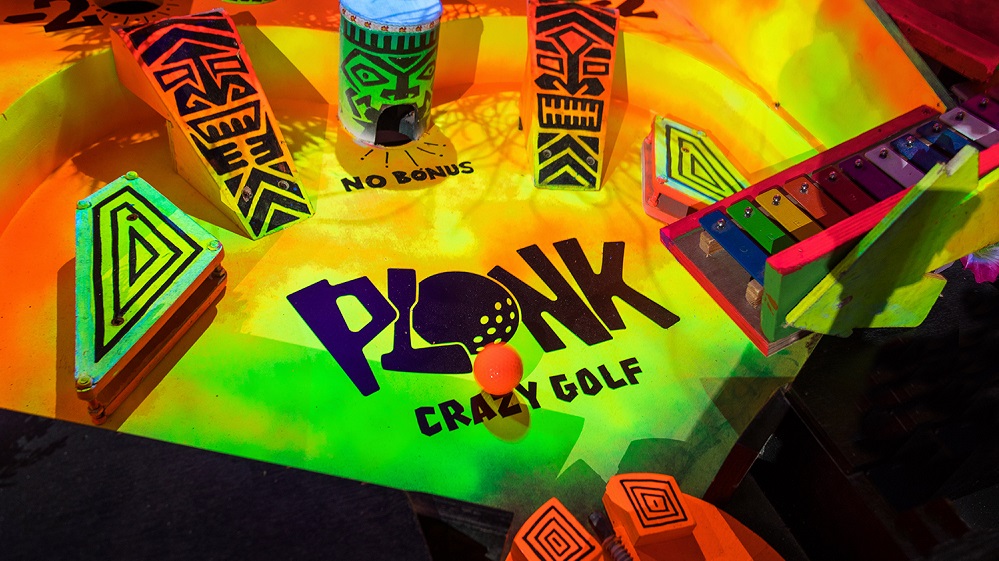 Minigolf in London is back, baby! And nowhere is better to play than at Plonk – with five venues scattered all around the city, there's plenty of places for you to show off your crazy golf handicaps. Their London Fields venue is situated in the heart of Hackney, and boasts nine holes of crazy golf fun, alongside a bar, arcade, and a hot dog shop. If south London is more your scene, they have a course at the Horniman Museum with enough loops, ramps and balancing beams to challenge even the best golfers. What about Peckham? The course there is Plonk's biggest course and games bar to date! Another nine holes of crazy golf fun, accompanied by a fantastic cocktail bar with a signature spring menu, including their amazing Blueberry Caipirinhas. Well worth a taste. Fancy Camden Market? Of course you do. With challenging obstacles, cheeky turns and a fully licensed bar, it's the perfect stop on a tour of the market. Finally, how about South Bank? Right next to the Thames, there's a new course at the Between the Bridges popup festival, so it's the perfect opportunity to get out and explore with the easing of lockdown restrictions. Check out their website to find out more.
Puttshack
Puttshack has reopened its doors again in London, and it's better than ever! With locations in Bank and White City, they offer amazing tech-infused mini golf courses, alongside amazing food and drink options for when you've worked up an appetite with your golf swing. Their crazy courses have bespoke themed holes, interactive leader boards and a digital prize wheel (if you're feeling lucky!) They test everything from your Beer Pong skills (have you been practicing over lockdown? Now's your opportunity to show off!) to your pop culture knowledge on their True or False holes. We mean, how crazy is that! The only thing we're certain of is that you and your mates are bound to have a great time – so get yourselves down there today. Visit their website to learn more.
Birdies – Roof East
Roof East is London's best rooftop. No doubt about it – mainly as it's home to Birdies, an amazing crazy golf course in the heart of London. Boasting a nine-hole course designed to test your skills (and friendships), it's the perfect place to show off your amazing golf skills and have a great time catching up with friends. Once you've worked up an appetite with your golf game, there's a huge variety of delicious food available on the rooftop, including an impressive array of burgers, pizzas and Indian street food. There's plenty of choice, so there's certainly something for everyone. There's also several bars to celebrate your golf victories, so there's lots of fun to be had! Visit their website today (as you definitely want to know more!).
Swingers
Travel back in time and transport yourselves into a world of adventures with the Swingers Golf course. With various venues all over London to choose from, there's plenty of fun to be had this summer! At their City venue, you can swap the Gherkin for a 1920s English countryside inspired golf club, with an elegant clubhouse, rolling greens and amazing hospitality. On Oxford Street? Switch the hustle and bustle of your shopping trip into a quintessential 1920s British seaside setting, complete with food, drinks and fun (and as a bonus, it's never going to rain!) With bespoke golf courses, Swingers also offers a variety of fantastic street food vendors and cocktail bars, perfect to celebrate any occasion – or just to have an amazing night out! Book online to experience your soon-to-be favourite night out in London!
Putt Club's Indoor Crazy Golf
Nestled in the heart of the Docklands, London's worst kept secret, Putt Club's Indoor Crazy Golf has hit the capital and is well worth all the hype! The UK's newest brand of crazy golf, it blends motorsports with golf, boasting a nine-hole golfing adventure complete with motoring themed twists and turns. Their Fuel Bar is jam packed with mouth-watering food and delicious drinks to fuel up before your big game, or to celebrate your unanimous golfing victories! It's the perfect spot to hang out with your mates this summer, boasting challenges, trick shots and mind-boggling illusions to keep you all entertained! Check out their website to find out more.
Birdies – Battersea
Birdies Crazy Golf London truly takes it to a whole new level. Nestled within the iconic Battersea Power Station, Birdies is one of the best crazy golf experiences to be found in South West London. With a nine – hole course you'll never forget, visitors will feel more like their on a mind-bending adventure than a round of golf. With each hole uniquely and creatively crafted the fun truly never stops; as you navigate your way through giant donuts, ramps, tunnels and more. Naturally you'll be paired with exceptional food and drinks including; burgers, slides and amazing craft cocktails. So what are you waiting for? Discover more about their amazing venue on their website today.
Pop Golf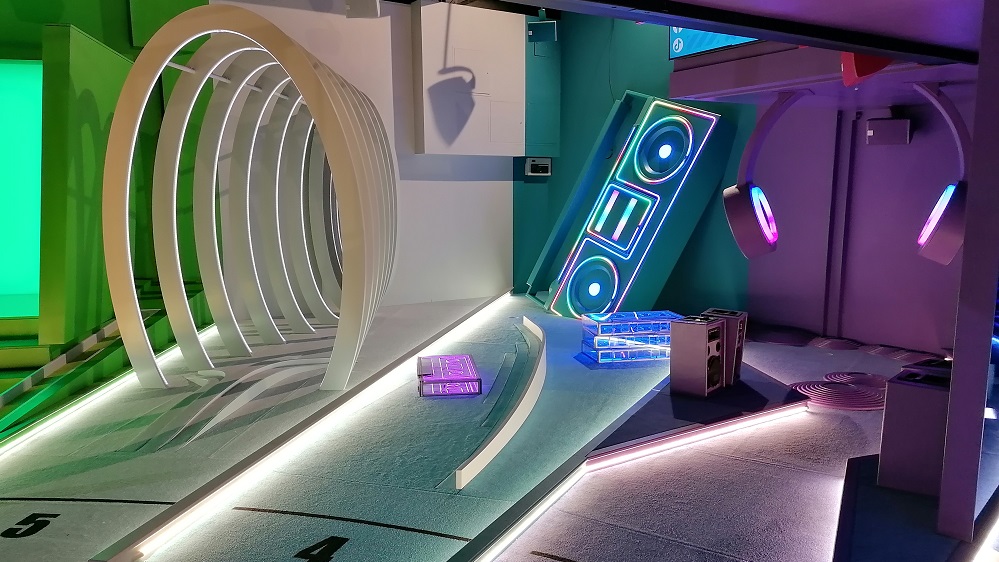 Described as a crazy golf inside of a Pop Music video, Pop Golf certainly lives up to its name. If you love 21st century music, vibrant colours and crazy golf this is certainly the venue for you. Situated in the stunning Box Park Wembley, the venue truly fits in with its modern surroundings. As much of a music venue as it is a golf course, depending on the day you visit, you'll be serenaded by a different amazing pop sound track. There's Indie Pop Wednesdays, Pure Pop Fridays, Urban Pop Thursdays and more. While bopping to the epic tunes make sure to check out their bar area, for cocktails as colourful as they are delicious. To discover more visit their website.