Ready to go out out in Birmingham? Diggin' a night out in Digbeth? Well let us throw a few ideas your way. If you are looking for things to do or great nights out in Birmingham then let us be your guide …
Ghetto Golf
Get yourselves down to Ghetto Golf this autumn! With cocktails, street food and DJs in the heart of the Custard Factory, it's the perfect spot to master your golf game and hang out with your mates over a drink or two. With a seriously twisted eighteen-hole crazy golf course, you can challenge your friends and prove your awesomeness – loser gets the next round, right? If that isn't enough, the entire course is crammed full of amazing artwork and graffiti – all from local artists (the ideal place to snap your next insta shot). It's chock full of delicious food and drink too, such as their sensational Lock and Loaded Fries or their addictive Ghetto Cocktails – how much more do you need to be convinced? Check out their website to book your next visit.
Where: The Custard Factory, Gibb Street, Deritend, Birmingham, B9 4AA
Cost: £12 per round
Age: 18+
Tree Top Adventure Golf
Sporting Birmingham's one and only city rainforest, you can truly lose yourselves in the twists and turns of their tropical golf trail. From the stalagmites of Thunderclap Ridge, to the mighty insects of Bug Canyon you're guaranteed a day of putting and excitement as you journey through the course with a drink in hand. To cap it off you can also try to score big on their final prize putt, to win a free round of golf if your aim is true. Of course you'll need some fuel for your jungle endeavours and for that you'll be wanting to visit their Thirsty Toucan's Bar. Enjoy their sensational cocktails such as Tropical Smash and the famous Monkey Mojito, as well as their stunning mocktails for designated drivers. Perfect for student hangouts, date nights, work get-togethers and celebrations – there's something for everyone. If you're looking to get started you can learn more on their amazing website.
Where: Level One, Bullring & Grand Central, Birmingham B5 4BA
Cost: £9.50 for a round of golf
Age: All Ages Welcome
The Floodgate
If you fancy getting your golfing tees out, make sure to get down to the Floodgate – a non-stop extravaganza of sports guaranteed to make your night out a success! Escape reality in the ultraviolet graffiti wonderland of Pit Pat Table Golf, a cross between billiards and mini golf. With an immersive eighteen-hole course, there's loads of fun to be had – complete with UV lights and pumping tunes! If you fancy yourselves as the next Birmingham bobcat, you can also try your hand at Bleachers Baseball! With two batting cages outside, you can give it a go if the weather is good (or you're feeling brave!) If you want to get in the winter spirit, make sure to give Curl Club curling a go. With six lanes, both inside and outside, you can give it a spin over a mulled cider or two. They've also got a bunch of food and drink tables ready to go if you want to load up on delicious carbs after a heavy-duty sports session! Have a look at their website to find out more.
Where: 104 Floodgate Street, Deritend, Birmingham, B5 5SR
Cost: (Pit Pat Table Golf) £8 off-peak and £10 peak
Age: 18+ apart from Sundays before 7pm
OTHER GREAT ACTIVITY VENUES IN BIRMINGHAM
Lane7
Fancy an awesome night out that'll put a new spin on your after-hours adventures? Make sure to get yourselves down to Lane7 this autumn! Open 'till late, they've got a whole host of brilliant activities for the perfect excuse to get your game face on, including bowling, shuffleboard, beer pong, karaoke and even retro arcade games! Bowling is the name of the game, with nine state-of-the-art bowling lanes, but you can also give Donkey Kong and Pacman a go if you're craving a little nostalgia. With all that excitement, you're bound to feel a little thirsty, so why not treat yourselves to a delicious cocktail or two at their fully stocked bar. It also wouldn't be right to forget their sensational partnership with local food vendors to supply truly revolutionary grub (unique in every venue). So be sure to check out their website to book your next visit.
Where: Level 6 of The Cube, 196 Wharfside Street, Birmingham, B1 1RN
Cost: £9.95 pp for bowling, shuffleboards £12 per 55 minutes, £7 for karaoke, and £2.50 for Beer Pong (table only)
Age: 18+ after 7pm
Roxy Ball Room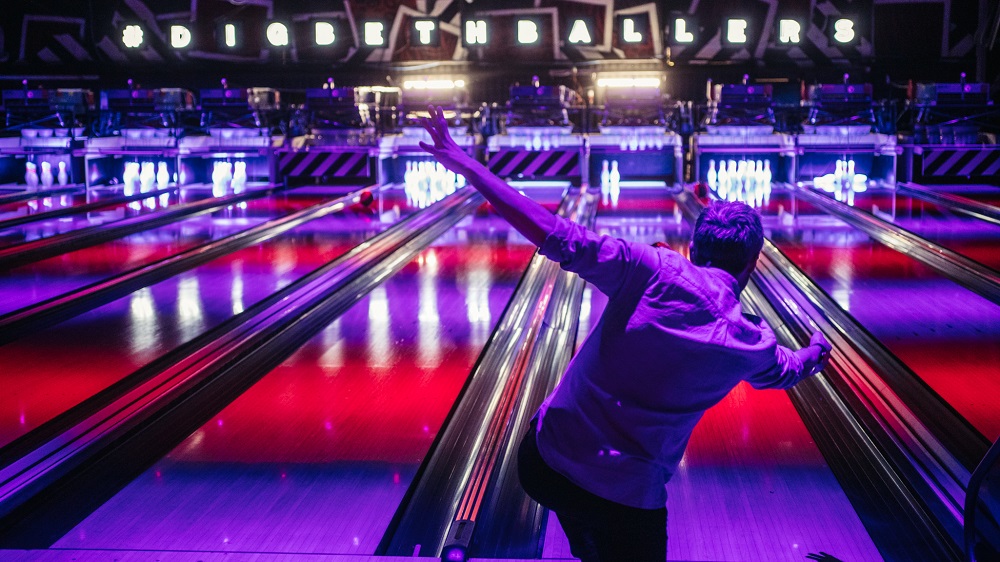 The amazingly successful Roxy Ball Room franchise has touched down in Birmingham – and it's the perfect spot for you guys to check out on your next night out! Found in the iconic Digbeth this venue truly is your new one stop fun shop. With bowling, pool tables, ping pong, shuffleboard and beer pong, there's plenty of excitement to be had with your mates over a pint or three. They've also got an extensive food menu, perfect for a quick bite with friends or a date night with that special someone – and if you're a pizza fan, rejoice! They've got loads of Italian goodness, including pizza by the slice and a selection of delicious sides! Interested? Of course you are. Check out their website to find out more.
Where: 58-60 Heath Mill Lane, Digbeth, Birmingham, B9 4AR
Cost: Bowling £10; ping pong, shuffleboard, pool, £14 per hour; beer pong £18
Age: 18+
Flight Club Darts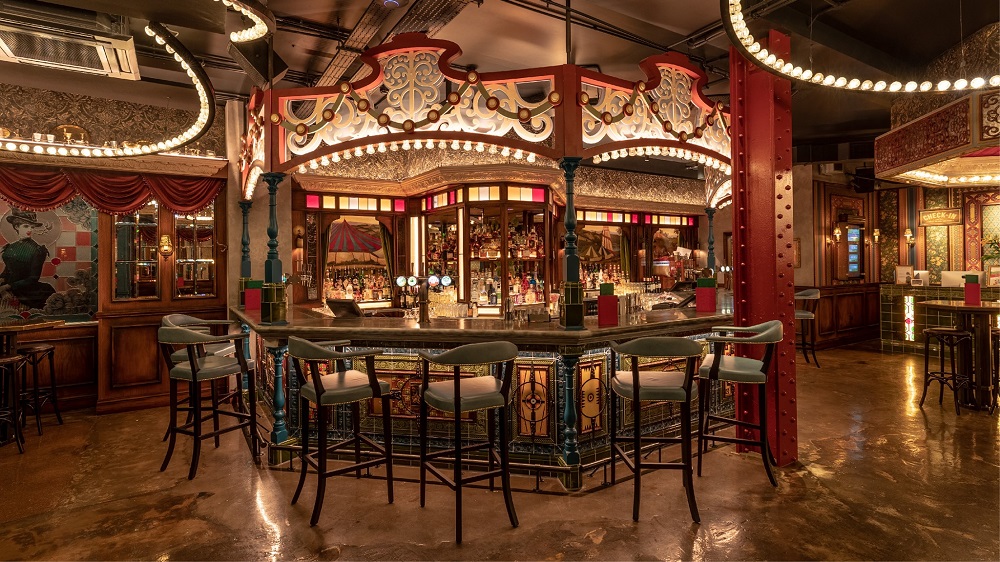 Flight Club Darts is back, baby, and in perfect time for your Brum night out! Reinventing darts for the twenty first century, they've brought fast-paced, multi-player games together with delicious drinks and fantastic food – the ideal combination sure to keep you coming back for more! With awesome décor perfect for social media, complete with lights that dance in time to the music, fairground horses and stained-glass windows. It's a great spot to catch up with your mates with a drink in hand, and if you're feeling competitive, make sure to step up to the oche and show off your darts prowess to the entire bar! Their cocktail and food menus are a culinary dream with sumptuous eats such their Sticky Pork Belly Bites, or their epic Nacho Stacks. So for a semi-sophisticated night of darts, dancing and perhaps a bit too much procceco be sure to visit their website.
Where: 13 Temple Street, Birmingham B2 5BN
Cost: £14 for an hour of social darts
Age: 18+
Drop Shot Digbeth
Do your nights out right with Drop Shot Digbeth! A crazy activity bar boasting a full cocktail bar and an array of craft beers, there's loads of awesome things to get you and your mates fired up during these cold autumn evenings! With six Olympic grade table tennis tables and two shuffle boards, there's plenty of opportunities to put those friendly rivalries to the test. If watching is more your style, you can catch live sports in high definition with all your friends! All that activity makes you feel a little peckish? No worries! You can grab yourselves a delicious wood fired pizza and dance the night away to the groovy tunes playing all night long. Sounds good right. They also offer epic discount nights so you can get partying for amazing prices, such as their Wednesday Student Nights. So, to learn more be sure to visit their website.
Where: 60 Heath Mill Lane, Deritend, Birmingham B9 4AR
Cost: All games only £10
Age: +18 after 8pm
Prices etc were correct at time of publishing. Best to check with the venue website for up to date information and offers.
Header image: Ghetto Golf Birmingham