It really is time to let the good times roll! If you're looking for a great place to go bowling in Manchester then we've got some great venues for you to check out …
Tenpin Printworks
Imagine an abstract art gallery and a state-of-the-art bowling lane, all rolled into one. Thinking about it? Got an idea in your head? Chances are you're thinking of something very similar to Printworks – complete with 12 interactive bowling lanes, beer pong tables, shuffleboard and karaoke! Plus, we're sure they can easily bowl you over with their latest arcade games, table tennis, and American pool tables. It's certainly not one to miss out if you fancy practicing your striking skills with mates, dates or family. Sound good? They also offer a delicious food menu, as well as a fantastic selection of drinks and cocktails from their two bars. With amazing deals on bowling, food and drinks, you guys are sure to be in for a great time! Find out all about their impressive venue and get booked in on their website.
Where: The Printworks, 27 Withy Grove, Manchester M4 2BS
Cost: £8.55 per person per game
Age : Under 18's must be accompanied by an adult after 9:00
Tenpin Parrs Wood
Another amazing Tenpin venue based in Manchester, this Parrs Wood location brings more of the original Tenpin magic to the city. Visit Tenpin Parrs Wood for a fantastic night out, complete with everything from bowling to arcades and table tennis to pool. Show off your ultimate bowling skills as you strike to victory on one of their 26 bowling lanes. For that extra bit of night-time atmosphere you can enjoy Cosmic Bowling, upon request. The lights go off, the UV kicks in and watch the lanes light up (and that white T you foolishly chose to wear!). The Parrs Wood restaurant and bar serve up tasty food and drink – absolutely essential after a heavy-duty bowling session and allows the losers to get the drinks in – right?! Their menu boasts staples such as the Classic Cheeseburger, the Big Dog as well as new and innovative takes on American Diner favourites such as the ultimate nachos (something that certainly lives up to its name!). Check out their website to get booked in.
Where: Entertainment Centre, Wilmslow Road, East Didsbury, Manchester M20 5PG
Cost: £8.55 per person per game
Age: Under 18's must be accompanied by an adult after 9pm
Hollywood Bowl
Whether with family, friends or just relaxing after work, Hollywood Bowl have got you covered. There's no better place to bowl, drink and eat with loved ones this summer, and with twenty-six lanes to bowl along, there's plenty of space to do so! If you fancy a little more luxury, they've also got a designated VIP area, so you can bowl in style as you bring home that win. If you're a little peckish after all that action, the venue comes complete with an American themed diner. We're talking hunky burgers, juicy hot dogs, overflowing nachos and good old-fashioned ice cream shakes. They've also got a relaxing bar if you're ready for a drink or two – how about a Holly-Woo, a Movie Star Martini or a Strawberry Mock-Jito? Oh, and there's an epic amusements area! So what are you waiting for? Head over to their website to get your lane booked!
Where: Hollywood Bowl Manchester, Ashton Leisure Park, Fold Way, Ashton-under-Lyne, Manchester, OL7 0PG
Cost: £6.50 per adult per game
Age : All ages welcome
Roxy Ball Room Arndale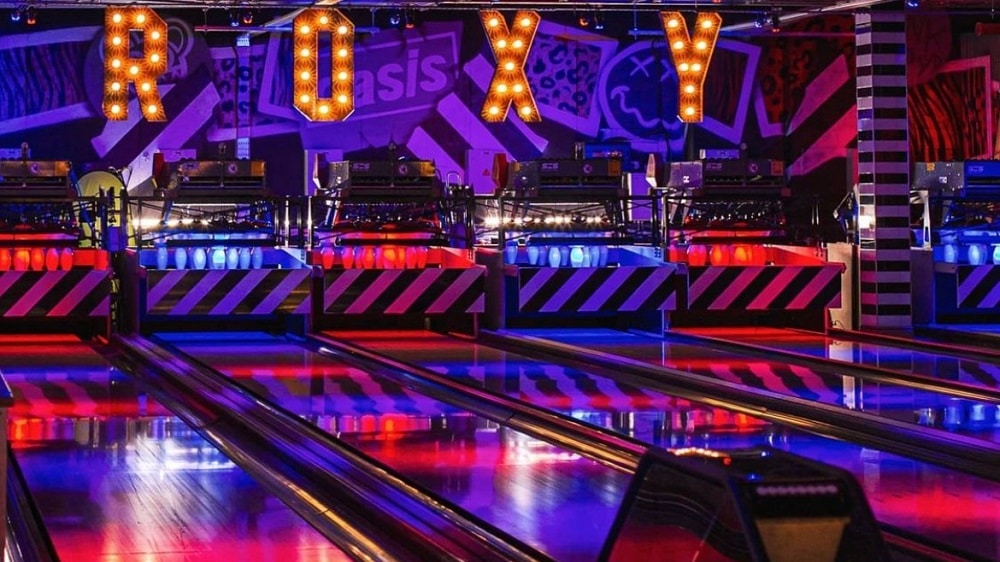 If style, fun and an urban feel is your thing, then be sure to check out Roxy Ball Room at the Arndale. In a great central location, and easily one of the most instagrammable venues in Manchester (check their insta feed if you don't believe us), this venue boasts eight bowling lanes, beer pong, ping pong and a load of retro arcade machines. Or why not try crazy pool, an exceptional mix of mini golf and pool? What about shuffleboard, making a comeback on the social gaming circuit? They've got loads on offer, so it's perfect whatever you're celebrating! Whatever you pick, make sure to relax after with a bite to eat and a drink from their sumptuous menu (their pizzas are pretty special!). Their cocktails in particular are the perfect thing to relax with when summer rolls around! So, why not visit their website to get the party started. 
Where: Unit R3, Withy Grove, Manchester, M4 3AQ
Cost: £8 for off-peak and £10 for peak bowling
Age: 18+
Lane7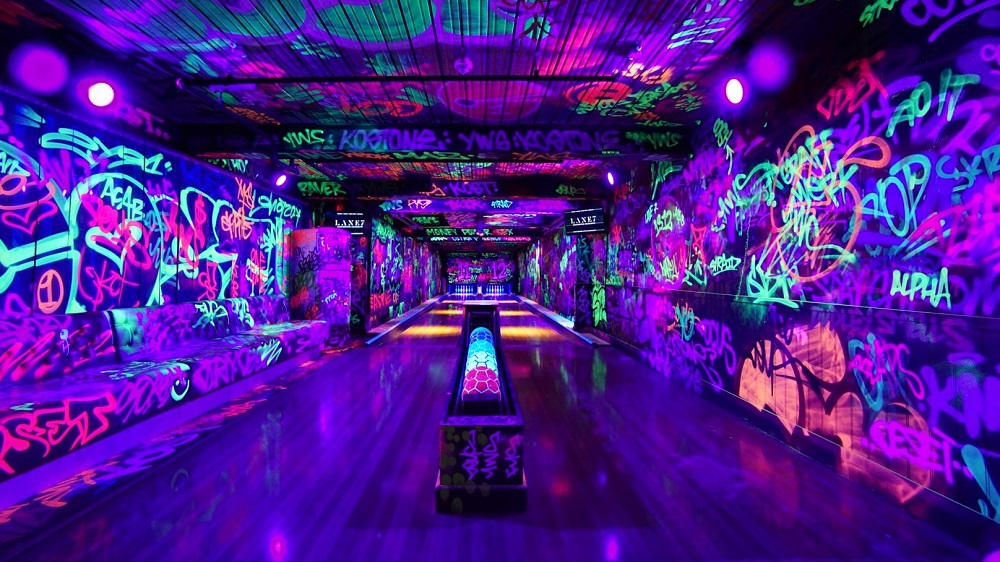 An amazing addition to the hugely successful Lane7 franchise, this Manchester venue is packed with awesome activities guaranteed to make your night out a success! Bowling at Lane7 is an experience. With 12 lanes separated into three different bowling areas. Lanes 1 & 2 sit in a VIP area with it's red vibe and striking zig zag lighting, luxurious bar area and pool tables. Lanes 3-10 are located in the main venue space. Whilst lanes 11 & 12, in their own private space, will dazzle you with their immersive, neon graffiti decor.
However, Lane7 offers more than just epic bowling. There's karaoke rooms (perfect for a post-match rendition of 'We are the Champions'!) and American pool. Fancy showing off your sharpshooter skills? Be sure to check out their shooting pods, where you can test your aim and your nerves. They've also got shuffleboard, ping pong tables and darts. Fancy a boozier night out? Get your game on with their beer pong set up, great for challenging your mates and enjoying a drink or two. They've also got mouth-watering food and drink on offer, courtesy of Fat Hippo; perfect for a post-game snack! To find out more, make sure to visit their website.
Where: Unit 3 235 Deansgate, Manchester M3 4EN
Cost: £17 per game of bowling
Age: 18+ after 7pm
Dog Bowl x NQ64
Do you love retro arcades? What about nailing that illusive strike? Then Dog Bowl x NQ64 is the venue for you. With a perfect blend of these two amazing hospitality companies, this venue is as amazing as it is visually stunning. The New York inspired bowling alley combines five full length bowling lanes, with enough space to play with all your mates. Keen dog lovers? Yeah, we thought so. Expect ball dispensers inspired by Dog Bowl's very own black dog, Bruce the Patterdale Terrier. Not just that, but due to their coupling with NQ64, you get to play some of the best classic arcades in all their retro glory. Perfect for vicariously living out your childhood again with a spin on some arcade staples! With sensational food menus, craft beers and speciality cocktails, this is the perfect place to reconnect with friends and bowl the night away. To find out more, visit their website to plan your trip. 
Where: Whitworth Street West, Manchester M1 5WW
Cost: £7.50 for off peak and £9.50 for peak.
Age: Under 18's until 7pm then 18+
Namco Funscape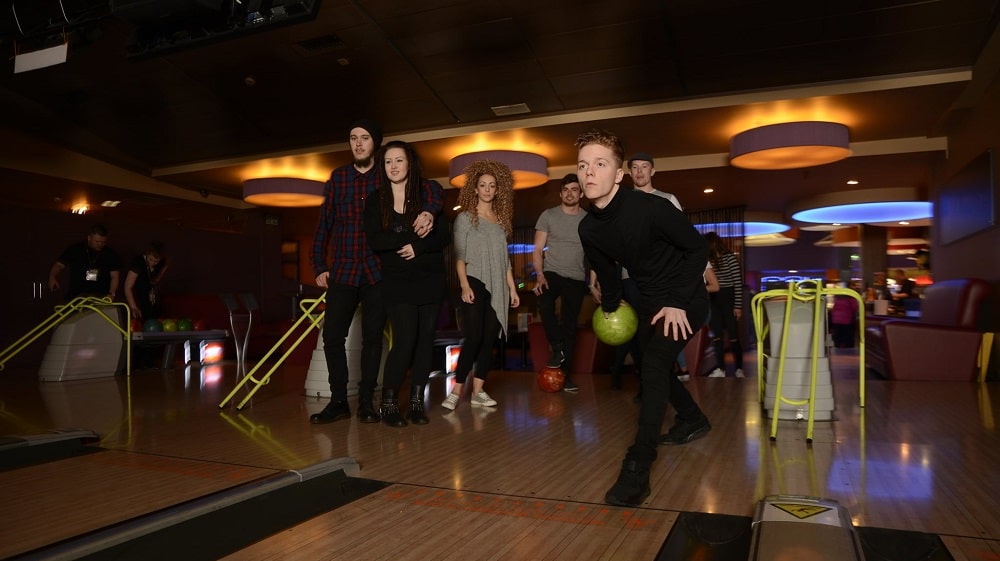 Experience all the fun of the fair at Namco Funscape, the Manchester based venue complete with everything from dodgems to classic pool tables, with a jam-packed arcade to boot! And of course, don't forget about their bowling lanes! The ideal spot to indulge in a round or two of bowling, you're guaranteed for a good time at this venue. Their dodgem tracks are the fastest in Europe, so it's bound to be a ride you won't forget in a hurry! If you fancy checking out their extensive arcade games, they've got everything from shoot 'em-ups, race car simulators to cuddly toy claw cranes, so it's perfect for any ability. Try your hand at childhood favourites (nostalgia guaranteed!), or discover something new as you battle for a range of exciting prizes! And if that wasn't enough, blast into the futuristic realm with a turn on one of their VR headsets, where you can choose from over fifty different rides ranging from spine-tinglingly scary to awesome underseas adventures! If you're a little hungry after all that, they've got an extensive selection of delicious food and drink on offer as well. Check out their website to more.
Where: 14 The Trafford Centre The Orient 14 The Trafford Centre, Manchester M17 8ED
Cost: £8 per person per game for bowling
Age : Everyone welcome
Other Fun Things To Do In Manchester …
Fancy giving something different a try? Check out our recommendations for great places to go axe throwing, play shuffleboard, crazy golf, unlock escape rooms or try immersive experiences.
Main image: Lane7 Manchester