We all have those times when we feel the need to throw something. Why not channel that angst into a fun afternoon or evening of competitive axe throwing – it'll make you feel a whole lot better. If you're London based then you've got a fair few venues to choose from …
Whistle Punks London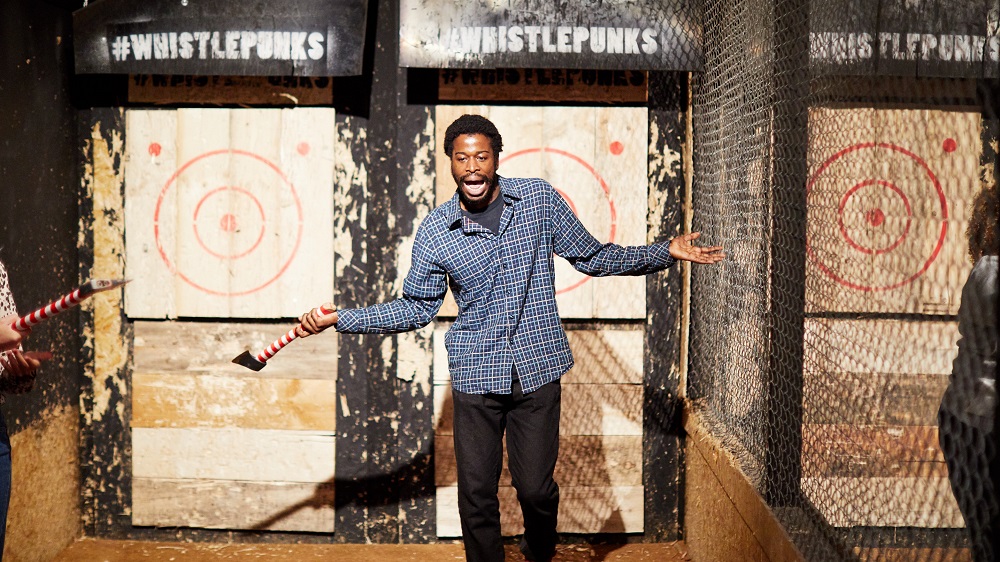 Have cinema blockbusters made you fancy yourselves as action heroes in the making? Have superhero movies made you imagine what life would be like if you had secret powers? Well, wonder no more and get yourselves down to Whistle Punks in London, where you can hone your axe slinging skills and develop some cool tricks to impress your mates! With training sessions and experienced instructors to help on the day, it's perfect for absolute beginners, so don't worry if you've never lobbed an axe before. You'll soon be hitting the target – perfect for when the tournament starts in the second half of your booking. If all that activity makes you feel a bit peckish, they have a range of soft drinks and bar snacks available. Sound good? Yeah, we sure think so. If you're interested, be sure to book online via their website.
Where: Arch 25, Handel Business Centre, 73 Bondway, London, SW8 1SQ
Cost: £29 pp for peak and £22 pp for off-peak
Age: 18+
Bad Axe Throwing Croydon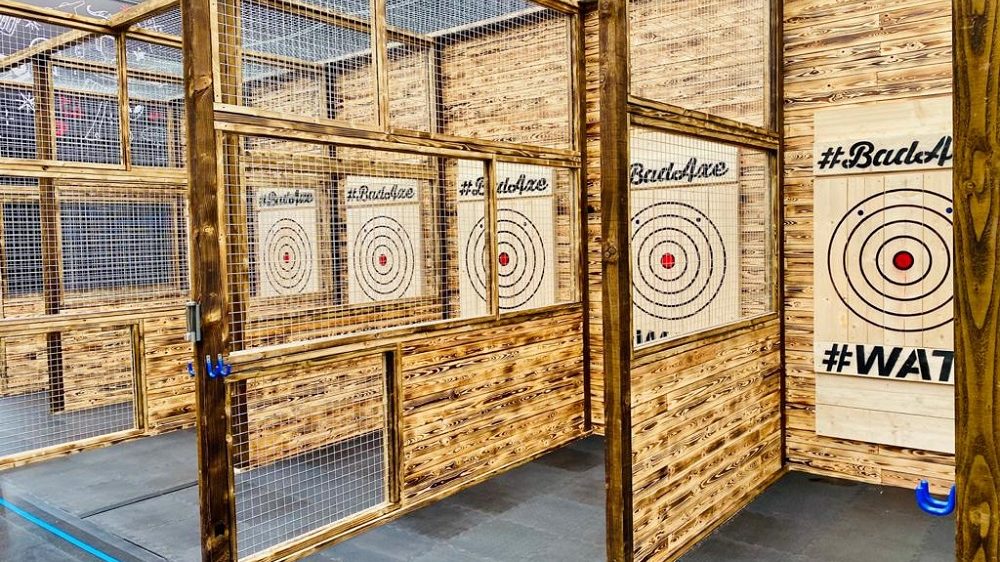 Bad Axe Throwing are the world's biggest urban axe throwing club for a reason. Their humble mission – to bring the traditional Canadian backyard activity to urban communities – is thriving in the UK, with two venues in London alone! With the help of talented axe throwing coaches, hundreds of thousands of people have been able to give it a go – so there's no better excuse to get yourselves to one of their venues! Their Croydon location boasts several axe throwing lanes, with loads of space for you and your mates to catch up over a round or two of friendly competition! They also serve a large selection of local craft beers and delicious cocktails, perfect for celebrating your axe throwing triumphs, so make sure to get yourselves there this summer. Check out their website to find out more.
Where: Unit 53-57, Boxpark Croydon, 99 George Street, London, CR0 1LD
Cost:£25 pp for peak, £18 pp for off-peak
Age: 18+
Bad Axe Throwing Wembley
The second of Bad Axe Throwing's venues in Wembley is also a fantastic experience, so be sure to pay them a visit on your next night out. A firm favourite amongst Londoners, it's a great place to run into celebrities, with Charlie Hunnam and Wolverine himself having been sighted slinging an axe or two. They cater for private parties as well as walk-in groups, so it's perfect for every occasion, and if you're feeling a few post-match hunger pangs, make sure to grab yourselves some delicious street food from the surrounding Boxpark restaurants. Is axe throwing fast becoming your firm favourite? Make sure to check out their regular throwing league for fame and glory. Whether you're a seasoned pro or a firm beginner, we're sure that with a bit of help from their expert instructors, you'll be racing to the top of their leaderboards in no time at all! Interested? Book now via their website.
Where: Boxpark Wembley, Units 32 & 33, 18 Olympic Way, Wembley, HA9 0JT
Cost: £25 pp for peak, £18 pp for off-peak
Age: Minimum age allowed is 8 (must be supervised by an adult)
Axeperience Axe Throwing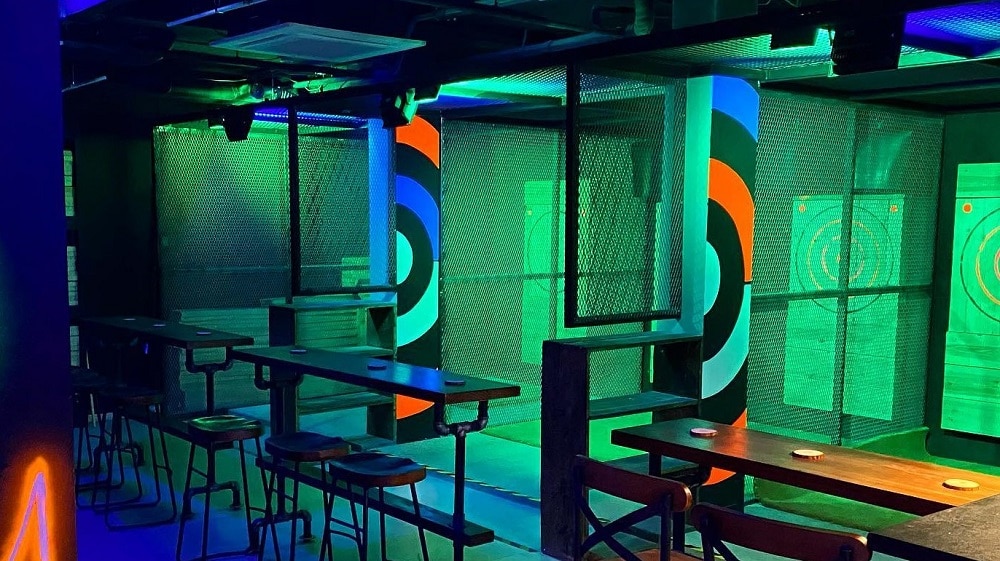 You'll never believe it, but there's another awesome axe throwing venue in London! Just an axe-throw away from the Tower of London (complete with its long history of axe related events), you can experience the unique thrill of tossing an axe at a target and slamming the bullseye! With each session, you get an hour's worth of axe-related fun, including training, slinging trick shots and an axe tournament, all guided by five-star professional instructors. If you're feeling a bit fancy, be sure to check out their exclusive lanes and escape the hustle and bustle of the general venue. And speaking of fancy… fancy dress is encouraged – the sillier the better! They've also got a range of soft drinks and non-alcoholic beers that you can enjoy mid-match, complete with some tasty bar snacks, but for safety reasons, they recommend that you guys wait till after you've sunk the axe into the last target to crack out the booze. But all the better for celebrating later, right? Why not make a night out to remember and try your hand at axe throwing? Book via their website to check out what they've got on offer.
Where: Basement Floor 48, 51 Minories, London EC3N 1JJ
Cost : Prices start from £30 pp (off-peak) and £35 pp (peak)
Age: 18+
Skeeters Axe Club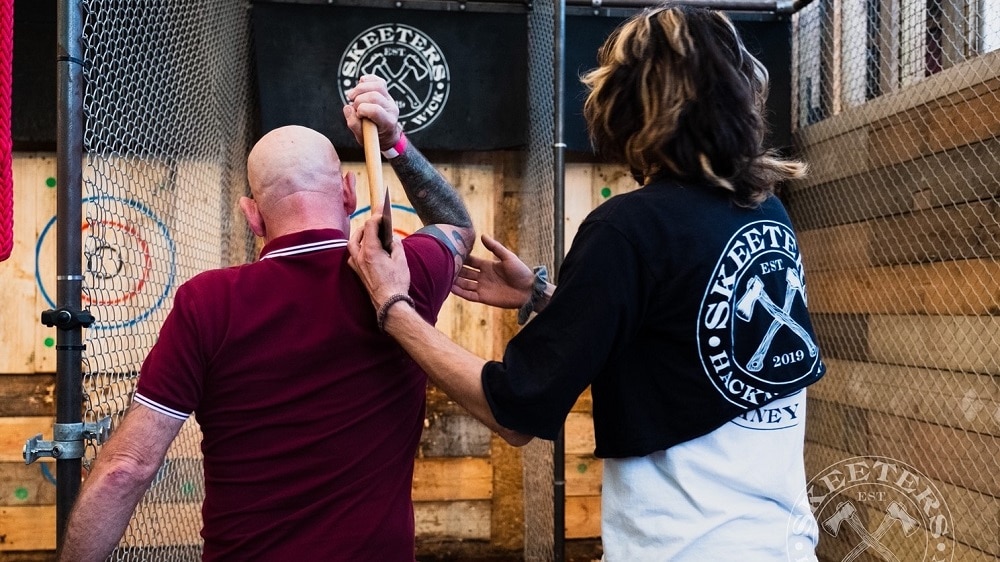 Last but by no means least on this list is the fantastic Skeeters Axe Club in Hackney Wick. Blow off some steam and relax with your mates as you sink a few targets – the perfect activity for any night out! Regardless of your ability, their expert team will talk you through the basics of the sport, and you'll be earning perfect scores in no time! After your heavy-duty session, be sure to check out the neighbourhood bars, including Howling Hops, which boasts a wide range of craft-beers, wines, spirits and cocktails. They've also got some delicious food venues selling mouth-watering meals, perfect for a post-match pick me up, so definitely not one to miss! If you're feeling confident with your newly minted axe throwing ability, be sure to check out their club nights on a Tuesday night, where you can compete with the best of the best for the chance to win fame, glory, and some magnificent axes. Don't worry if you've only just picked up an axe! All abilities are welcome. Skeeter's are affiliated with the International Axe Throwing Federation, so if you prove to be a total whizz, you could even qualify for the global axe-throwing finals held in Toronto, Canada! You're your session via their website, and you're bound to have a great time!
Where: Hamlet Industrial Estate, 96 White Post Lane, London E9 5EN
Cost: Prices start from £20 per person for walk-in (subject to availability). Prices start from £35 per person for a private lane with less than 10 guests
Age: All ages welcome ( under 18's must have an adult present)
Ready To Mix Up Your Game Play?
There are loads of amazing activities to try to give a competitive edge to your night out. Check out our suggestions for places in London to play social sports (batting cages, immersive football etc), shuffleboard, bowling, darts or even explore immersive experiences.
All information in this blog was correct at time of posting. We advise you check the venue websites, just in case. Header image is from Bad Axe Throwing in Croydon.