If you didn't already know it, axe throwing is awesome fun. Now, Axed Lincoln have taken this brilliant activity to a whole new level, with the UK's first Interactive Smart Lanes.
Over the last few years we've seen a number of classic games reinvented with powerful tech (darts, shuffleboard, football, cricket, shooting), now it's the turn of axe throwing.
Interactive Smart Lanes at Axed Lincoln
The end grain targets are transformed into creative game play zones by powerfully projecting images onto the surface. Players selected their chosen game on the easy-to-use touch screens and then let the battle commence.  Choose from Area Control©, a hard core version of noughts and crosses, Battleaxe© with moving targets and Axed Royale© where the moving targets decrease in size – so only the most accurate and skilful throwers will triumph!
What's great about axe throwing is that even if you've never done it before, with Axed Lincoln's friendly and skilled coaches, you'll soon be sinking that axe into the target – and it's thrilling!
The Highscore competition tech means that scores are tracked on the screen so you can put all your efforts into nailing that throw. Plus, you can choose to group together into teams, to give your night out a really competitive kick.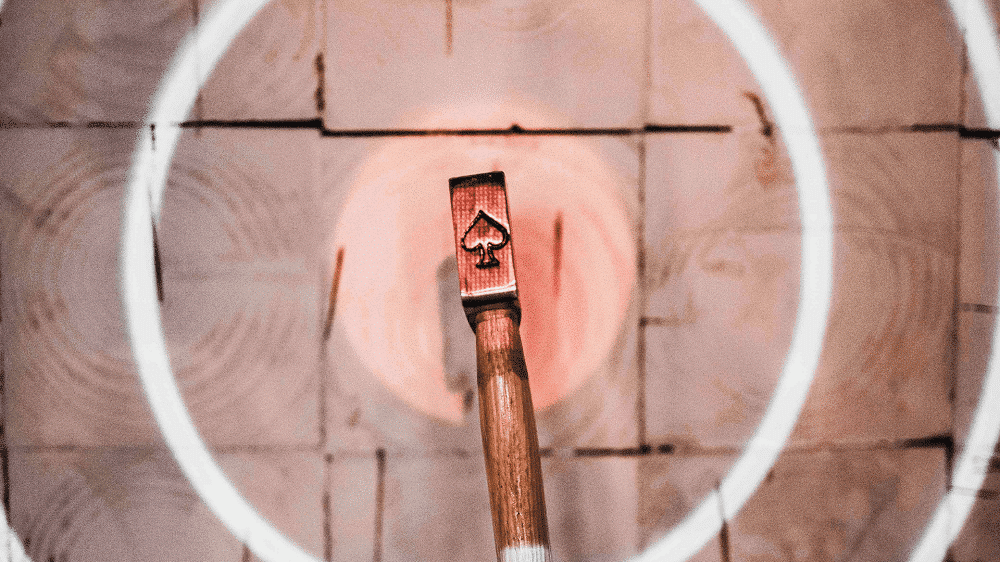 Axed Lincoln choose to use end grain targets, blocks of wood rather than planks. You're much more likely to land your axe into an end grain target, making them safer (less axes bouncing off the surface) and more fun – as you'll be successful quicker. They're also more environmentally friendly – win win!
Celebrate in Style
As well as an amazing gaming experience Axed Lincoln have you covered for your post game celebrations.  They have a well-stocked bar with craft beers, soft drinks, coffee and cocktails and in the next few weeks they'll be starting service of pizza by the slice.
Get Even More Axed Lincoln
Why not get the weekend started early with their Throwdown Thursday special. Every Thursday you can get 50% off your game – so there's no excuse to not get your work mates together and put that work stress and angst to some good use.
If you catch the bug … we're talking the axe throwing bug not the dreaded C-word, then why not become an Axed Lincoln member? Send them an email or pop into the venue to get signed up.
What could be better than some great axe throwing gaming, drinks and pizza? Get you and your team booked in at Axed Lincoln and get in on the axe-ion.  If you want to make a day of it then you could also check out Escape Lincoln and Urban Putters who are in the same location.
Axed Lincoln is run by Axed Global who also operate Axed Nottingham. However, they are growing. Look out for forthcoming news of sites opening in Birmingham, Sheffield, Leicester and Peterborough.
Where: Unit 1 – 2 Vulcan Park, George Street, Lincoln, LN5 8LG
Cost: The more throwers you have the cheaper it can be and the longer you can play for: four throwers £20pp / three throwers £22pp / one or two throwers £24pp for 1 hour
Age: 10+
Don't live near Lincoln but fancy axe throwing? How about checking out these great places to try out axe throwing in Leeds, London, Manchester, Bristol or Sheffield?