Urban axe throwing is a not only brilliant fun but it's an awesome way to relieve some tension. So whether you're planning for a night out with a twist, plotting some team building or just need to let off some steam check out what Sheffield has to offer …
BattleAxe Urban Axe Throwing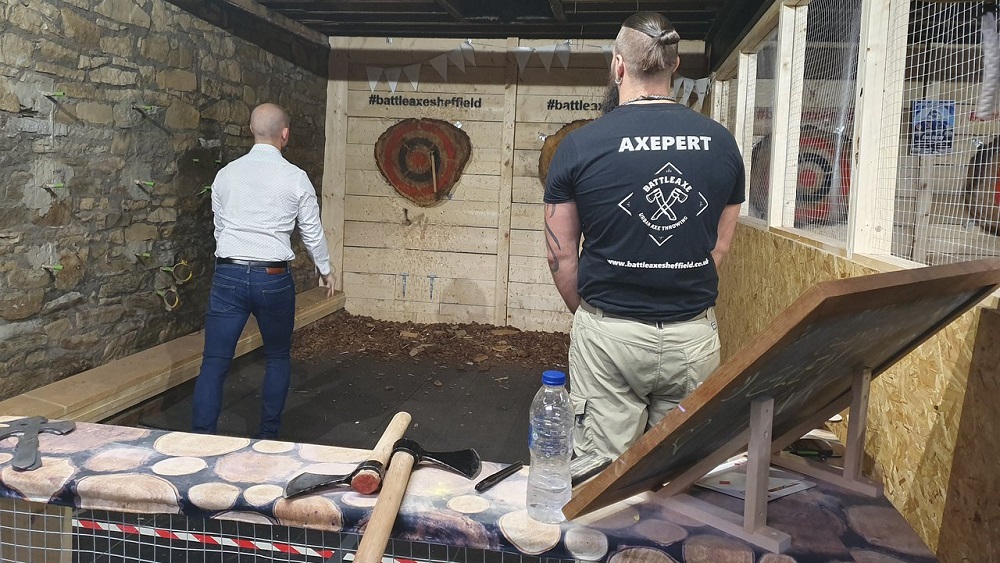 If you're looking for some axe-citment later this summer then BattleAxe Urban Axe Throwing is going to be the place for you. Unleash your inner Viking as you loose your axes in the most exciting form of target practice you've ever played. Based only a few short minutes away from Kelham Island, it's the perfect place to start or finish your day out, to get you in the mood for serious fun. With each session lasting 70 minutes there's plenty of time to get your new high-score and ultimate bragging rights among friends or family (after all they're suitable for ages 8 -108). They're currently closed until late summer but make sure to check out their website to learn more about them, for when they reopen.
Valhalla Axe Throwing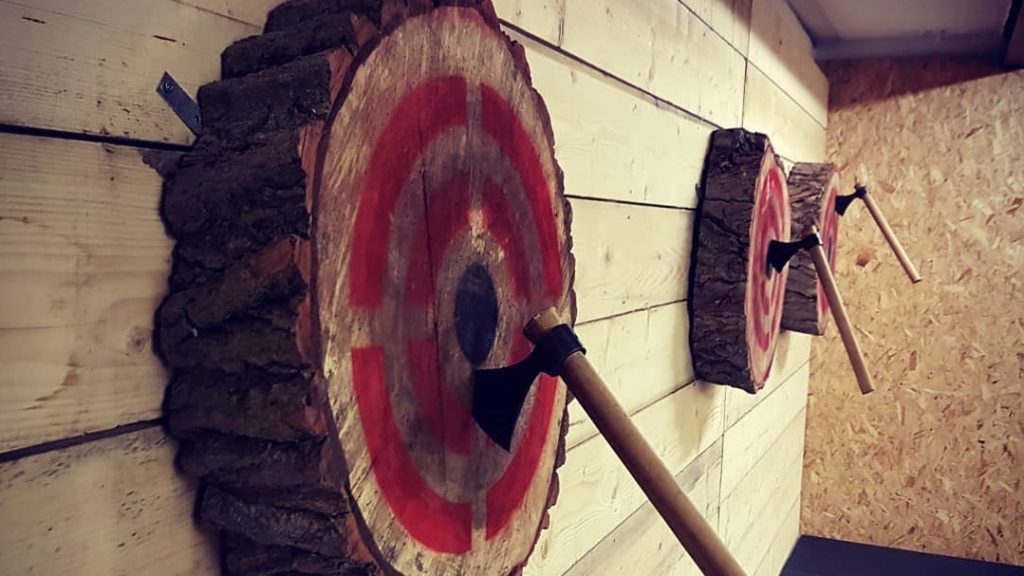 Another epic venue in the Sheffield area. Valhalla Axe Throwing is open for Vikings in training right now! Based at Sheaf Bank, a stones (or axes) throw away from the River Sheaf. Each session includes full training and lasts up to an hour and a half. That's plenty of time to grab that epic bull's-eye on their awesome log targets. If you hadn't guessed by the name, Vikings are a strong part of this venue and they've been known to have the odd costume or two if you're really looking to get into the Norse Berserker mood. So why not master the skill, have tons of fun and reconnect with friends in a new exciting and unique way? You can learn more about this sensational location on their website.
Other great things to do in Sheffield
Wildcard Bar And Grill
The Wildcard Bar and Grill is a venue like no other. If you're looking for refreshing beer, stunning cocktails and delicious foods then look no further! Yet the thing that truly sets Wildcard apart would be their 40 + HD screens, and a huge Jumbotron, making it the place to be for all major sporting events (especially the Euro's coming up this weekend). If you're looking for classic fun and games then you won't be disappointed. American pool tables sit side by side to authentic shuffle tables for your day drinking game sessions. They even house the latest, state-of-the-art, electronic darts, which take away all the stress and put in all the fun playing a game of darts. Make sure to visit the Wildward website to learn more.
Champs
A venue that truly lives up to its name with an atmosphere that will make you feel like a champion. Looking for food? They've got you covered with their mouth watering menu (be sure to check out their Outstanding Burger Experience). Located in the student favourite area of Ecclesall Road, they truly capture the relaxed, fun and social vibe of those sports fixture Sundays with your mates (another cracking location for the upcoming Euros). Yet that's not all. There awesome venue is also jam-packed with games consoles, American pool and shuffleboards, for you to create your own gaming extravaganza. So be sure to challenge your friends, for the glory of victory, and the potential to score the next round of drinks on them. To discover more about this classic Sheffield venue, make sure to visit their website.
Lane 7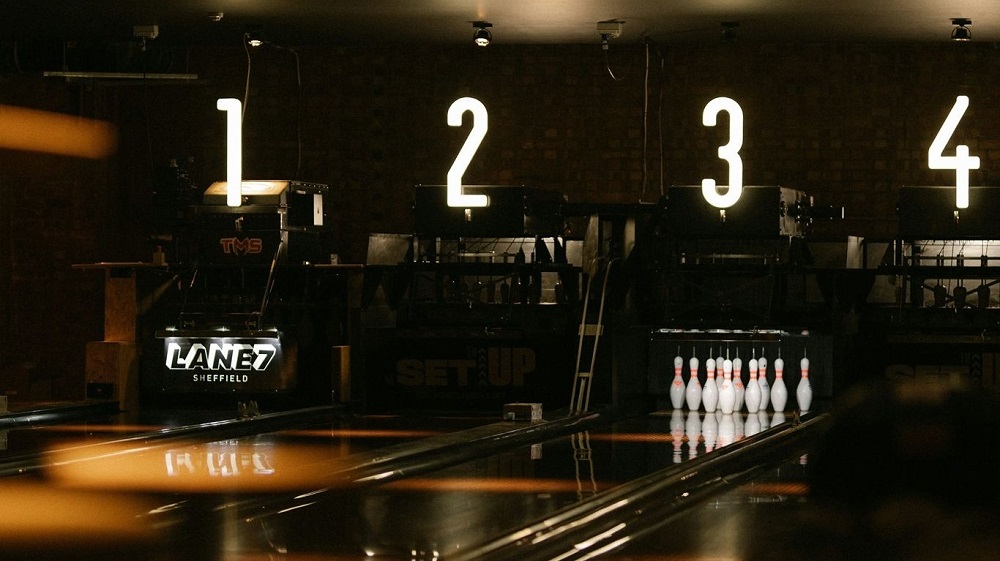 If you're still looking to flex your hand to eye coordination skills but want to leave the axes behind then Lane 7 is here to help. Based on Matilda Street, Lane 7 is so much more than just a bowling venue. Into video games? Then how about their arcade full of classic games for you and your friends to enjoy some epic nostalgia. Or maybe some darts or ping pong, to sharpen up your aim before hitting their beautiful bowling lanes with interactive scoring systems. Or maybe you feel like you want to get into a more Americana vibe with classic American pool and beer pong. Whatever you choose, after your epic game session make sure to kick back and relax with their insane food and drinks options, from burgers to chicken fingers as well as some sensational sides. Then quench your thirst with delicious cocktails, classic beers or delicious spirits. To learn more about there must visit Sheffield venue visit their website today.
Hollywood Bowl Sheffield
Equipped with 26 bowling lanes, epic amusements and a must visit dinner and bar, you have to visit Hollywood Bowl's Sheffield venue! With over 61 venues in the UK you know they're doing something right. Enjoy the thrill of a perfect strike, an exciting game of classic American pool, or an action-packed session at their arcade. The venue is fully kitted out with the best social distancing measures so you can stay safe while you play (perfect for that long overdue family day out). If you're feeling hungry be sure to grab a bite from the Hollywood Diner or a drink from their sensational bar. You can find them at Valley Centertainment, one of Sheffield's best amusement complex's in Don Valley. To discover more about their venue in Sheffield visit their website.
Picture House Social
Picture House Social is a pizza joint with a difference! With each pizza made fresh daily in their kitchens, they pair the ultimate Neapolitan experience with Italian style street food and delicious homemade sauces. They also have music, drinks, craft beer and much more to make your trip even more special! A variety of fancy cocktails to keep you on your toes are on offer, including Haarkon, Make No Bones and the Mardy Barber. Picture House also has a games room for you to blow off some steam or just engage in some friendly competition with your mates, including a round of ping pong or two. There's also a DJ in the bar area to help get the party started! So why not visit their website to see what all the excitement is about.