Are you ready to channel your inner Viking? Or, would you rather thrown on your towelling lumberjack shirt and beanie to embrace the full Canadian lumberjack experience? Either way, Manchester we've got you covered. Offering you a great night out of axe throwing, fuelled by tasty snacks and a safe amount of booze check out our list of axe throwing venues …
Whistle Punks Manchester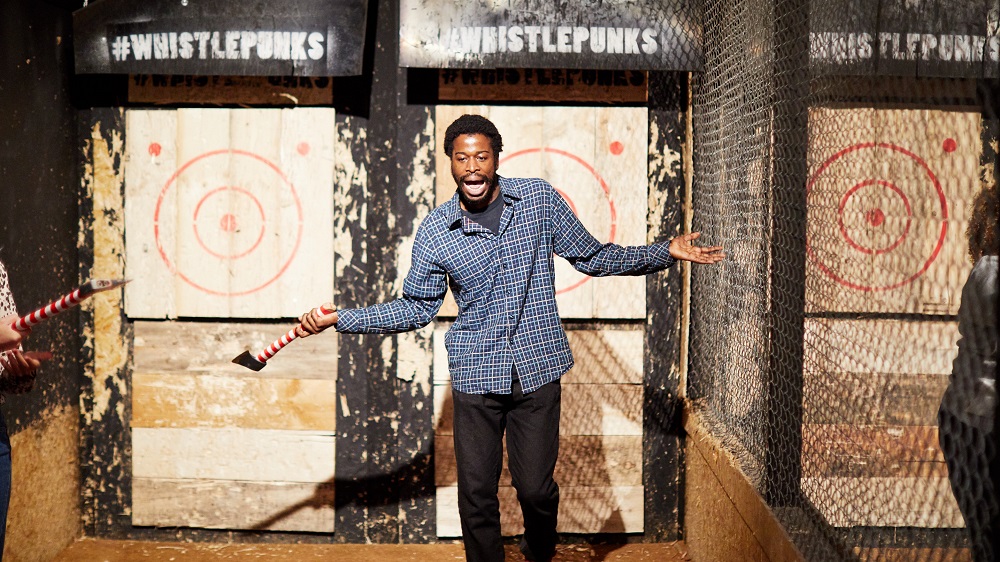 If you're in Manchester and love your axe shaped projectiles, then get yourself to Deansgate for Whistle Punks Manchester! With custom axe throwing cages, pure wood targets, (two targets in each lane) and your own instructor, it means you'll have an epic fifty-minute axe throwing session. You'll go from beginner to pro axe thrower in no time! Be sure to make the most of their fully licenced food and drink bar (to refresh yourselves after your session) and knock back refreshing beers and ciders, as well as tasty bar snacks. Check out their website to learn more.
Where: Great Northern Warehouse, Unit 20, Atrium level, 235 Deansgate, Manchester M3 4EN
Cost: £20 for a 50 minute axperience
Age: 18+
Real Axe – Bolton
Love that classic night out but wish you could add a spark of something unique? Then the Real Axe Bar and Smokehouse is the venue for you. It has everything from urban axe throwing sessions, an authentic BBQ smokehouse as well as a fully functional restaurant and bar. For obvious reasons, all axe throwing must be done before hitting the bar. With designated lanes, you can throw solo or with a group with their flexible packages so you can book the perfect session for you and your mates. After you've nailed the perfect bullseye, be sure to make your way to their bar and restaurant. If you're a BBQ lover, then you'll love their menu! Classic briskets, baby ribs, burgers and so much more are on offer, and to wash it down, draft beers, spirits, and everything in-between. And that's not all! With a wide range of comedy and music nights in their calendar, this venue gets better and better. Learn all about them and their upcoming events on their website.
Where: Unit 12A Dunscar Industrial Park, Blackburn Rd, Bolton BL7 9PQ
Cost: £18 for the 75 minute experience
Other great things to do in Manchester
Lane 7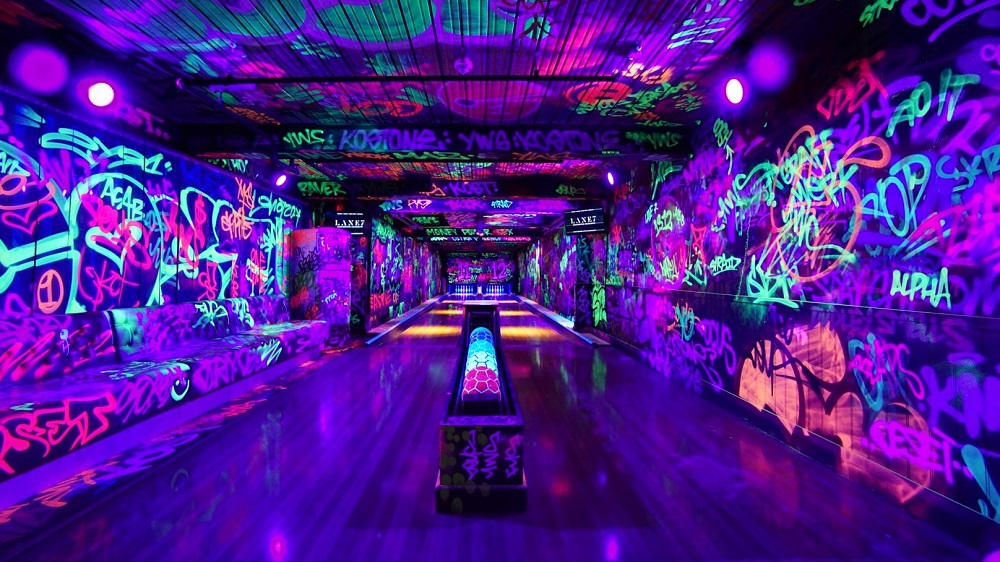 Lane7 combines classic bowling with a modern twist in the best possible way. Another location found in Deansgate, visitors can enjoy American pool, beer pong, karaoke and, of course, bowling. You can spin Lane7's signature bowling balls down beautifully crafted alleys to experience that perfect strike feeling. Even if your aim isn't as sharp at it usually is, you can always emulate that champion feeling with their epic food and drinks menus. Their stunning cocktails, delicious burgers and amazing sides are exactly what you need to kick back and relax with your besties in this gorgeous venue. To learn more, be sure to check out their website.
Where: Unit 3 235 Deansgate, Manchester M3 4EN
Cost: £17 per game
Age: All ages until 7pm then 18+
Tenpin Printworks
A venue that truly lives up to its name, Tenpin Printworks is as colourful as it is fun. They offer state of the art interactive bowling lanes, epic beer pong, fully functional arcade games, shuffleboard, karaoke booths, table tennis and American pool (we weren't exaggerating about having a lot of fun!) With an all-new food and drinks menu, now is the perfect excuse to drop by. With everything from classics like burgers and hot dogs to sensational shareable desserts (you've got to try their caramel churros!), you certainly won't be hungry after your visit. To learn more be sure to have a browse of their website.
Where: The Printworks, 27 Withy Grove, Manchester M4 2BS
Cost: £13 per game
Age: All ages welcome
NQ64 and Dog Bowl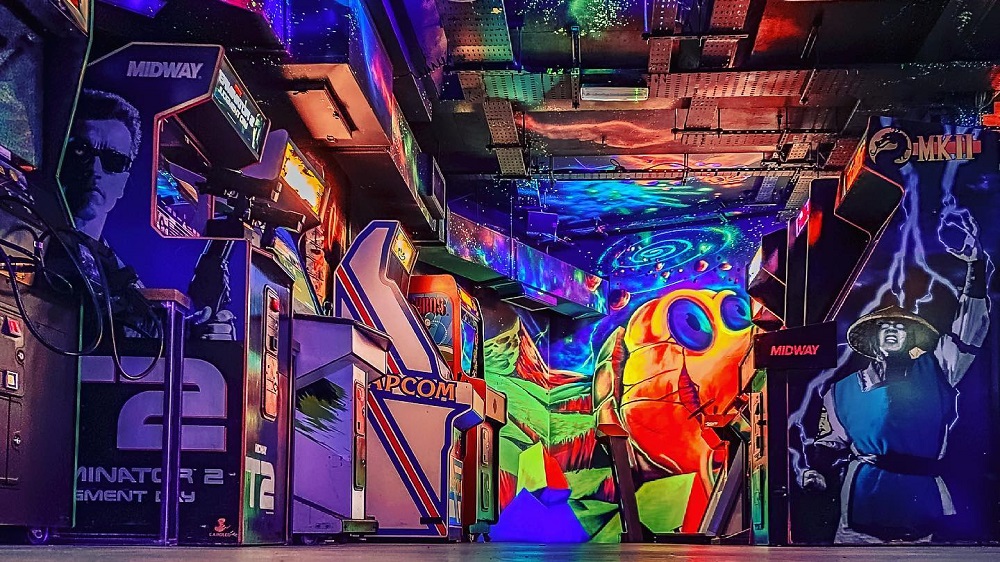 What's better than a classic bowling venue and an astounding retro-arcade venue? Somewhere that has both! Nestled in Whitworth Street, this venue boasts a perfect blend of both epic companies. Take a trip back to the heyday of the eighties as you venture into the neon-coloured palace of classic arcade gaming with NQ64! Or why not enjoy some stellar bowling on Dog Bowl's five, full-length bowling lanes. If you're stuck for stunning first date locations, then look no further. Enjoy cocktails to die for, beers you'll love and a great selection of wines if you're looking to keep it classy. For food, you're spoilt for choice as you can enjoy anything from burgers to entire pizzas. So, if you love retro gaming, bowling and all things awesome, be sure to pay a visit to their website.
Where: Whitworth St W, Manchester M1 5WW
Cost: £7.50 for Off Peak and £9.50 for Peak
Age: Under 18's until 7pm then 18+
Roxy Ball Room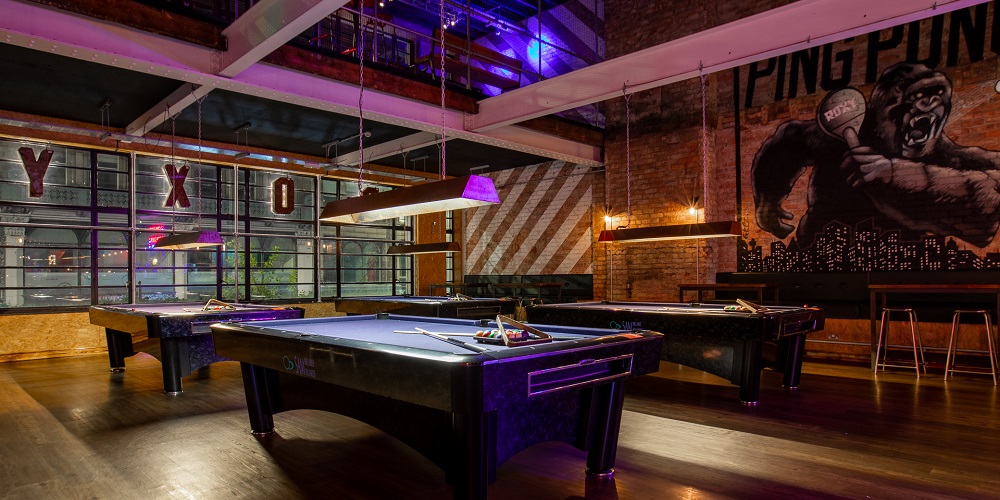 Roxy Ball Room in Manchester truly has it all if you're looking for a day out with a difference! With two locations in the Manchester area (Arndale and Deansgate), it just means double the fun for your next night out. At their Arndale location, be sure to enjoy full size bowling lanes, classic arcade games as well as pool, table tennis, shuffleboard and beer-pong. Not to forget crazy pool, a marvellous mash up of mini golf and pool! At their Deansgate venue you can enjoy all the classics, however instead of bowling you'll be teeing off with their sensational Roxy Golf course. As is the Roxy way, you have to try out their fabulous food and drinks menu. For recommendations, we're in love with their chicken and chorizo pizza, paired with their Last Dance cocktail (packed with Jack Daniels, cherry liqueur, lemon juice, gomme and ginger ale). To learn more about both epic venues, check out their website.
Where: 1ST, 76-78 Deansgate, Manchester M3 2FN / Unit R3, Withy Grove, Manchester M4 3AQ
Cost: £10 for mini golf, £10 for crazy pool, £10 for bowling, £15 for shuffleboard, £15 for Ping Pong, £15 for pool, £18 for beer pong, £10 for mini golf
Age: 18+
Junkyard Golf
Ever wished crazy golf could just be that little bit crazier? If so, your dreams have come true at Junkyard Golf. With three epic courses to choose from, you're never far from adventure, cocktails and not to mention a tastesational food menu. Putt through a twisted circus on their Bozo course, get a hole in one on their amazing Pablo in the middle of the jungle, and finally test your nerve to claim victory on their Gary course (a junkyard themed course that gives this location its name). Their drinks and cocktail menu deserves a special mention here as well with some of the most sugar loaded, flavour packed creations you can wish for. You can find them at 2 First Street as well as more information on their website.
Where: 2 First St, Manchester M15 4RP
Cost: £8.50 per game for Off Peak or £10 for Peak per game
Age: 18+ after 6pm
Point Blank Shooting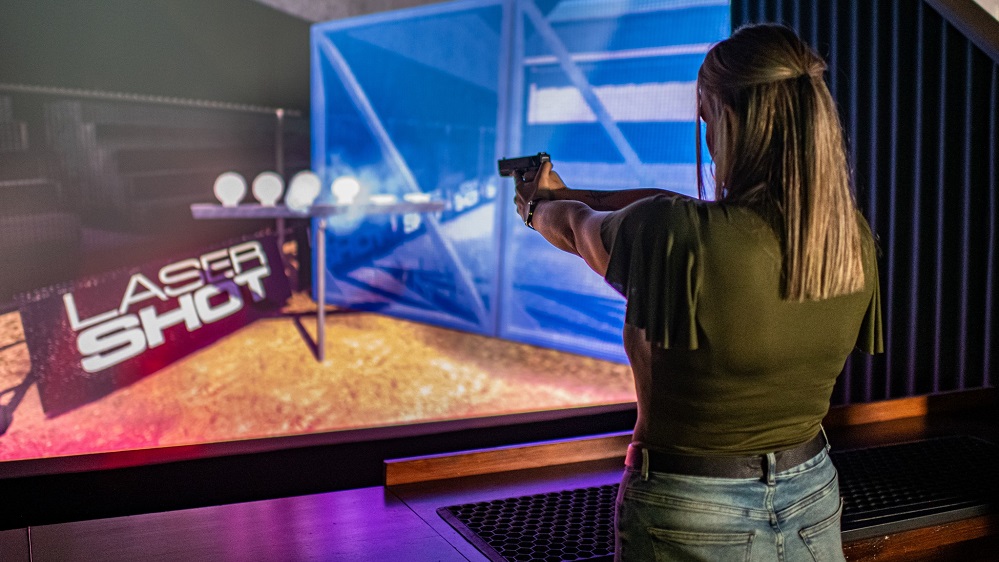 Looking to continue your target practice? If so, Point Blank Shooting have got you covered. Ever dreamed of being a secret agent? Well, you can fulfil your fantasy at this amazing venue located in Deansgate (truly the place to be for a day out in Manchester!) This venue certainly has a licence to thrill! Choose your weapon of choice and take aim at custom designed targets in their sensational shooting simulator, and pair it with delish drinks and amazing food on offer at the venue. There are also some sensational packages to enhance your time, including the "Get Loaded" package, which allows you to choose from two of their delicious cocktails for just £12. Interested? Of course you are – be sure to check out their website to book your slot.
Where: Basement, 78, Deansgate, Manchester M3 2FW
Cost: Off Peak range hire from £10
Age: 18+