If you've never had a go at Urban Axe Throwing, then you're missing it. It's hilarious fun and can get highly competitive. Venues always have coaches who guide you through your session, helping you to hone your technique, so you get that bullseye before your mates do!
So, if you're looking for something fun to do in Newcastle, look no further. Check out our Play List of axe throwing venues … plus further down there's loads of other great places for a night out in Newcastle.
Hatchet Harry's Axe Throwing
Unleash your inner Viking with Hatchet Harry's Axe Throwing in Newcastle! An ideal spot to show off your strength and might in front of all your friends (and maybe even a date or two?), it's perfect for every occasion! Unfortunately, it's a booze free zone for obvious reasons, but you can always down a delicious pint after the game (to celebrate, of course!). Embrace this classic Canadian sport and summon your inner lumberjack, and with their expert instructors, you'll be throwing axes like a pro in no time! Check out more via their website.
Where: Arch's 9, 10 Forth Banks, Newcastle upon Tyne NE1 3PG
Cost: £26 per person for an hour of throwing
Age: Anyone age 8+ welcome (under 18's must have adult supervision)
Game Of Throwing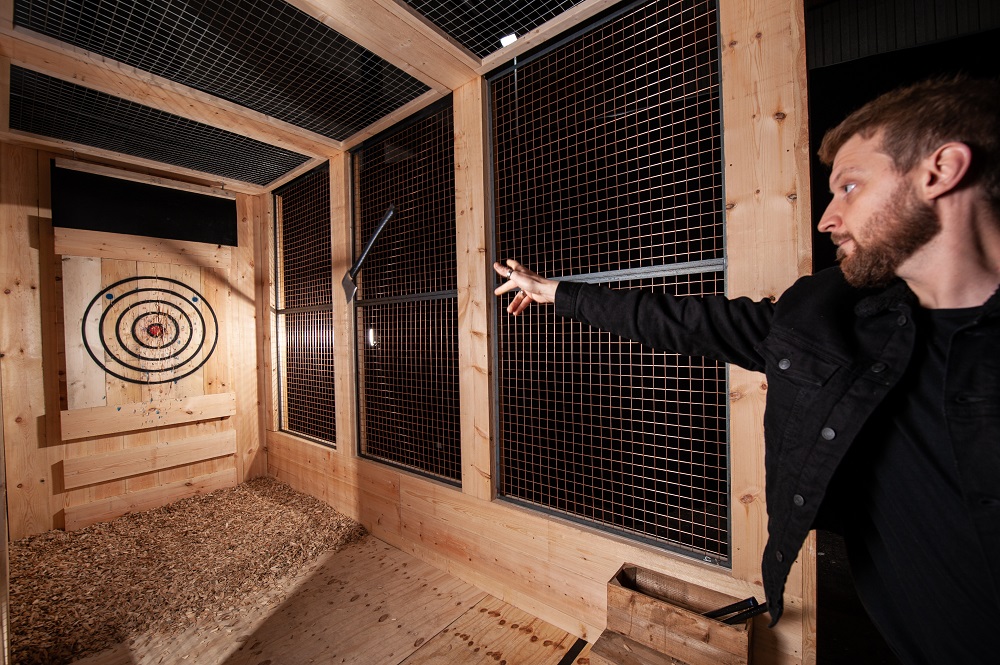 What's got epic action scenes, dramatic soundtracks and is sure to be a good time? No, not Game of Thrones (excluding that last season), but Game of Throwing in Newcastle. An easy mistake to make! With loads on offer, including a seventy-five-minute axe-throwing paradise, it's the perfect spot to get your game on and practice your skills. Impress all your mates with your awesome axe throws, or start from scratch with the help of one of their expert axe-masters, it's great fun regardless of your skill level! Make sure to check it out on your next trip to The Gate. Have a look at their website to find out more.
Where: The Gate, Newgate Street, Newcastle upon Tyne, NE1 5TG
Cost: £20 per 75 minute session
Age: 10-16 must be accompanied by an adult
OTHER GREAT ACTIVITY VENUES IN NEWCASTLE
Junkyard Golf
You lucky bunch! Junkyard Golf opened their brand new venue in Newcastle this week! Three epic courses of mini golf with crazy themes: Gary has you weave through a car breakers yard course, Bozo is the proper weird one, a house of horrors fairground with freaky clowns and Pablo takes you trekking through the jungle to discover glittering temples and bubbling volcanoes. After attaining golfing glory you'll want to head over to their bar for some top cocktails. Ready for a right laugh? Well, get mates together and book yourselves via their website.
Where: Unit 4, 17 Newgate Street, Newcastle Upon Tyne, NE1 5RE
Cost: Off peak, £8.50 per putter, per game. Peak, £10 (Carers play for free)
Age: Off peak 18+ after 7pm, Peak 18+ only
Lane7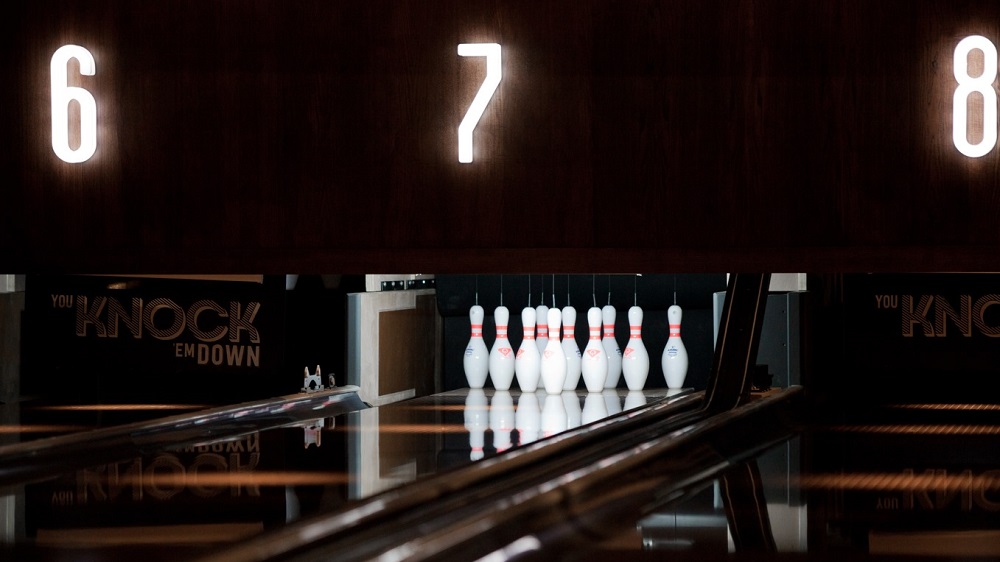 Have you guys heard of a little spot called Lane7? We'd be surprised if not, as we just can't stop going on about them on this blog, and for good reason! They're absolutely awesome! If this bowling behemoth has somehow slipped your radar, don't worry! There's no time like the present to check them out! Crammed with all sorts of awesome activities from bowling alleys, ping pong tables, mini golf courses to pool tables, there's something for every occasion, and you'll just have to keep going back for more fun and games. They've also got a delicious selection of food and drink on offer, including funky cocktails (some designated driver friendly as well), shakes, slushies and soft drinks. Well? What are you guys waiting for? Get down there on your next night out and make it one to remember! Be sure to check out their website to find out more.
Where: 80-90 St James' Boulevard, Newcastle upon Tyne, NE1 4BN
Cost: Starting from £8.50 for peak and £7.50 for off peak, 1 hour of ping pong for £7, £7 for peak karaoke and £5 for off peak, £5 for mini golf, £12 for an hour of pool, £2.50 for a beer pong table (ask about the packages in the venue)
Age: 18+ after 7pm
Ghetto Golf
Keen golfers? Want to keep up that winning streak? Or just want to have a good time with your mates on the Geordie scene? Whatever you fancy, get yourselves down to Ghetto Golf this winter! Jam-packed with an eighteen-hole urban golf course complete with awesome décor, sick tunes and an amazing atmosphere, it's definitely not one to miss on your next night out. You can also enjoy some delicious drinks, including insta worthy cocktails, shots and spirits, perfect for a good time with your mates (especially if you've just aced a hole-in-one!) Interested? Of course you are. Check out their website to find out more.
Where: The Clay Shed Hoult's Yard, Walker Road, Newcastle upon Tyne, NE6 2HL
Cost: £12 per round per person
Age: 18+
The WonderBar
What's your ideal way to spend a night out? Drinks with friends? Great music? Sounds good to us! But you guys are missing one key ingredient – darts! And where better to combine all three than at The WonderBar, a mood lit sports lounge that's perfect for that Friday feeling? Complete with oches and interactive darts boards, you can challenge your mates for bragging rights and glory (what's better?) And if you want to change it up a bit from traditional darts, they've got five different competitions to choose from, so there's loads of opportunities to mix it up! They've also got a delicious selection of food and drink, so you can feast like kings to celebrate your inevitable victory on the darts scene! So what are you waiting for? Check out their website to find out more!
Where: The Gate, Newgate Street, Newcastle upon Tyne, NE1 5TG
Cost: £30 for an hour of darts peak and £15 for an hour of darts off-peak
Age: 18+
Angry Birds Adventure Golf
Fancy yourself some Red and Chuck fun? Well the Metrocentre have a fun mini golf venue perfect for you. Enjoy the cosy dwellings of Bird Island, cast far away from civilization, with 18 holes of golfing adventure! Or opt for gravity defying Pigtropolis, where the creative building of the pigs is on full display. After your trek through the zany world of Angry Birds you can grab some well earned pizza in their cafe bar. And, you're sure to be thirsty so they'll be delighted to serve you a beer, glass of wine or spirit. Everything you need for a night out with a difference. Head on over to their website for all the details and to book.
Where: Metrocentre, 56 Garden Walk, Gateshead, NE11 9XZ
Cost: From £8.95 per adult
Age: All ages
Mr Mulligans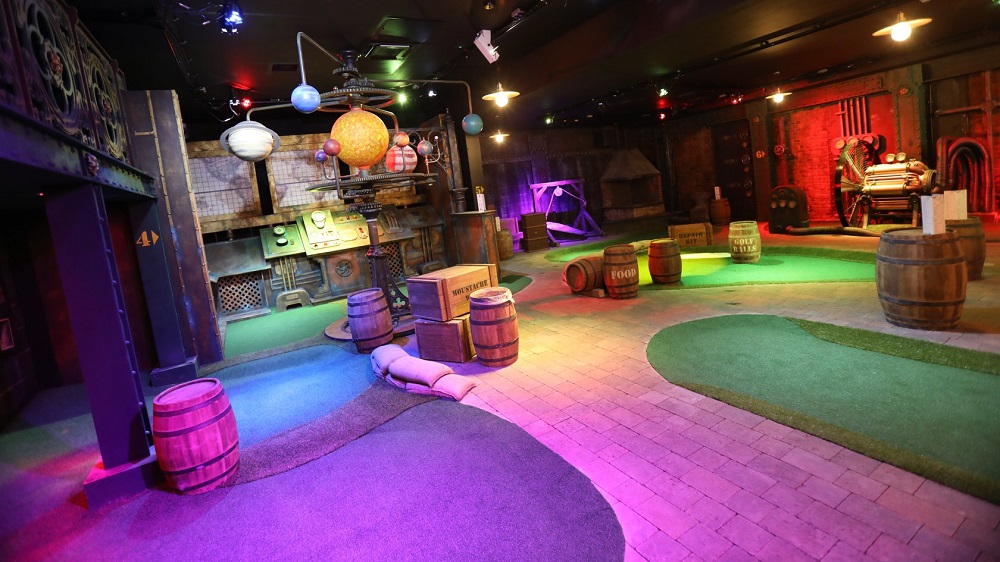 Did you have dreams of being an astronaut when you grew up? Still keen on the idea of jetting off past Mars? Although they can't help you guys with blasting off through undiscovered frontiers in space, Mr Mulligan's offers the next best thing – space themed mini golf! Complete with eighteen and twenty-seven-hole courses, they guarantee fun that's out of this world! Dodge falling asteroids, shooting stars and rogue planets to beat your friends in the ultimate space race! If you're still itching for more once you've made the history books, check out their electro darts board or give one of their arcade games a spin. And if you're feeling a little hungry after all that excitement, don't worry! They boast a full restaurant and bar complete with delicious food and crazy cocktails! For more info, be sure to check out their website!
Where: 117 Newgate Street, Newcastle upon Tyne, NE1 5RZ
Cost: £11 for 18 holes, £13 for 27 holes
Age: All Ages Welcome
Prices etc were correct at time of publishing. Best to check with the venue website for up to date information and offers.