This is a brilliant way to spend a night out. Channel your inner Viking or Canadian Lumberjack and see if you can hurl that axe at the bullseye. Ultimate bragging rights if you hit the target before your mates! There aren't loads of axe throwing bars in Leeds so we've lined up a few other venues, offering other competitive experiences, for you to check out too …
Whistle Punks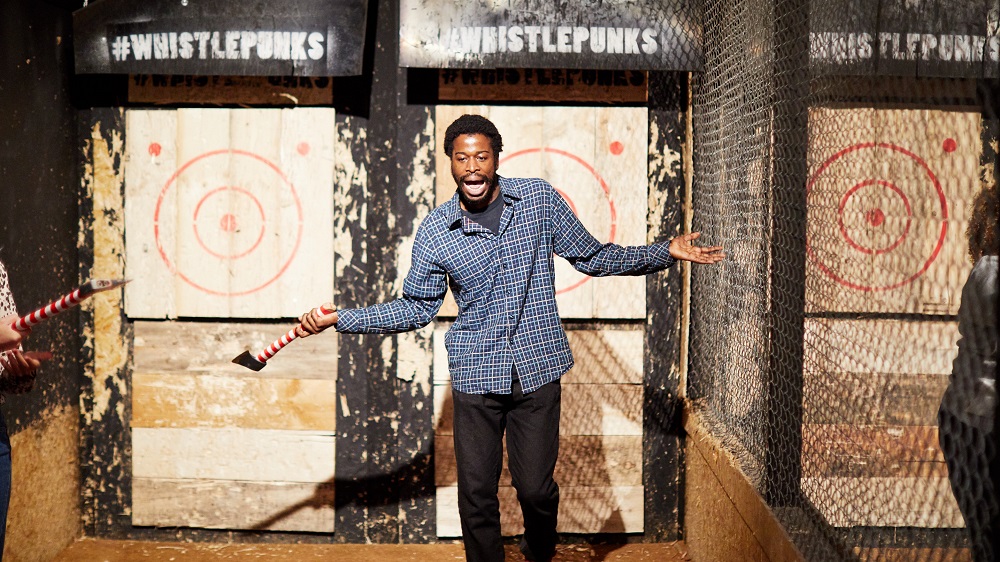 The stress of daily life getting to you in 2022? Want to embrace your inner berserker? Check out Whistle Punks, the perfect place to embrace the lumberjack life and let off some steam – axe throwing style. With loads of trained instructors ready to introduce you to the awesome of axe throwing, don't worry if you've never done it before! It's perfect for everyone from complete beginners to people with a few strikes under their belt. Challenge your mates to some quickfire showdowns and have loads of fun channeling your inner Wolverine! If you're feeling a little hungry after all that excitement, they've also got a fully licensed bar on hand that's perfect for everything from a delicious cocktail or some stronger spirits. They've also got delicious pizza to fill you up after a strenuous axe throwing sesh. Interested? Of course you are. Be sure to have a look at their website to learn the latest details.
Venue: Millennium Square The Electric Press 4, Leeds LS2 3AD
Cost: £28 per person on Saturdays. Rest of the week £25 peak times and £20 off peak
Age: 18+
TimberJacks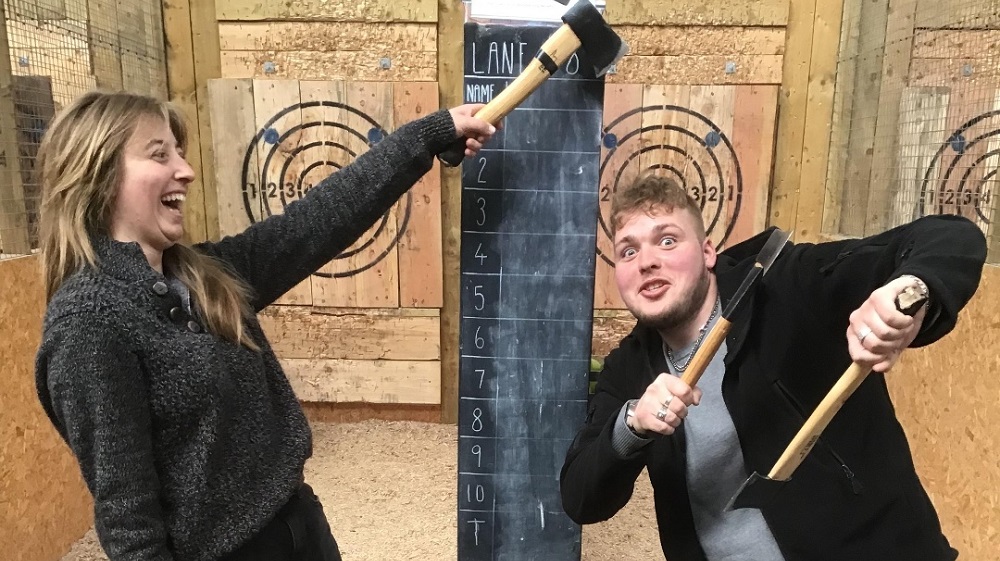 Become one with your inner woodsman at TimberJacks in Leeds! Master the skill of axe throwing and embrace your dreams of becoming a master lumberjack in the Canadian forests! Well, we can't send you to Canada, but we've got the next best thing – the chance to sling axes at far away targets. We mean, you can't get more awesome than that. It's a great experience, perfect for family and friends alike, that's sure to put a twist on your usual nights out! If you fancy a little bit of an extra challenge this spring once you've mastered the basics, they also offer a bunch of fun in-game extras to spice up your game! Choose from apple smashing, target posters and axe roulette – nights out have never been so fun! Check out their website to find out more.
Venue: Burley Hill Trading Estate, Unit B2, Flexspace, Leeds LS4 2PU
Cost: Prices start from £20 per person
Age: 8+
What Other Activity Bars Can I Go To in Leeds?
Junkyard Golf 
Wanna show off your crazy golf skills? Wanna dance the night away with some crazy cocktails? Get yourselves down to Junkyard Golf this spring. Complete with three awesome courses bound to test your nerves (and your golf handicap!), there's loads of fun to be had with your mates! Their Bozo course will have you face those age-old fears of clowns, where you'll manoeuvre your way through nine holes of circus freaks and fairground creeps as you have all the fun at the fair! Maybe you fancy a holiday this year? If so, check out their Pablo course, where you'll be dropped into the middle of the tropical jungle, filled with pirate speedboats, creepy crawlies and glitter temples! Nostalgic at heart? Their Gary course is perfect for you – with 90's tunes, a scrapyard slide and an ultraviolet garage room! Sound good? Yeah, we agree. So, why not play a visit to their epic website to get cracking.
Where: The Light the Headrow, The Headrow, Leeds LS1 8TL
Cost: £8.50 per game for off-peak or £10 for peak per game
Age: 18+ after 6pm
Roxy Ball Room and Roxy Lanes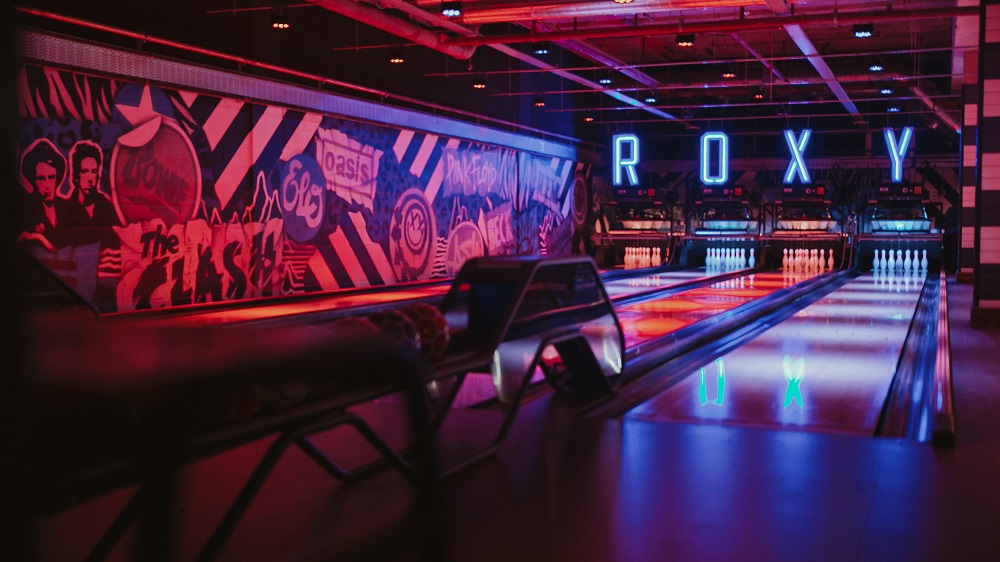 In Leeds? Get yourselves down to Roxy Ball Room and Roxy Lanes! Crammed full of all your favourite ball games, you can bowl the night away to your heart's content! More of a table top sports fan? You can play pool or have a go on their shuffleboard table, or if live sports is more your thing, check out the beautiful game on any one of their huge TV screens all across the bar. If you're near their Merrion Street venue, they've also got crazy pool (which is as fun as it sounds!) and a karaoke room to keep you entertained all night long! Fancy some more boozy fun? Make sure to play a round or two at beer pong – sure to keep you entertained! If you're feeling a little hungry after all that activity, they've also got an extensive menu of delicious food and drink to keep you fuelled all night long, including some amazing cocktails and mouth-watering pizza! Need we say more? Check out their website for more info.
Where: (The Light), The Light, 44-48 The Headrow, Leeds LS1 8TLLS1 5BQ // (Boar Lane) 58 Boar Lane, Leeds, LS1 6HW // (Merrion Street) 9a Merrion Street, Leeds, LS1 6PQ
Cost: £10 for mini golf, £10 for crazy pool, £10 for bowling, £15 for shuffleboard, £15 for Ping Pong, £15 for Pool, £18 for beer pong, £10 for mini golf
Age: 18+ after 5pm
Flight Club Darts
That's right! Flight Club Darts is back baby, and better than ever! The darts sensation has come soaring into Leeds, and it's the perfect spot to spend your spring! Fan of fancy cocktails? Enjoy the nostalgia that comes with a fairground visit? Well then, Flight Club have got you covered. With an awesome setup that encompasses all the fun of the fair alongside tech-reinvented darts layout of your quintessential English pub, it's a great spot to game the night away alongside your mates. They've got thirteen oches, so there's plenty of room for all of you to show off your darts prowess! They've also got some delicious grub on offer if you're feeling a bit hungry, and of course, there's a great selection of drinks available from their fully stocked bar. What are you waiting for? Check out their website to get your trip started.
Where: Sovereign House, 1-2 South Parade, Leeds, LS1 5QL
Cost: 60 minute sessions £14 for two players, 90 minute sessions £20 for two players
Age: 18+
Prices etc were correct at time of publishing. Best to check with the venue website for up-to-date information and offers.
Header image: Escape Reality Las Vegas