Grab the handle with both hands, wield it back behind your head then unleash and watch the wooden target splinter under the force of your mighty throw – you are a warrior! Or, you'll just be having a brilliant time throwing axes with your mates, in a safe and controlled environment.
As there's only one social playlist style venue offering axe throwing in Bristol we've also listed a load of other fab venues where you can party and play.
Whistle Punks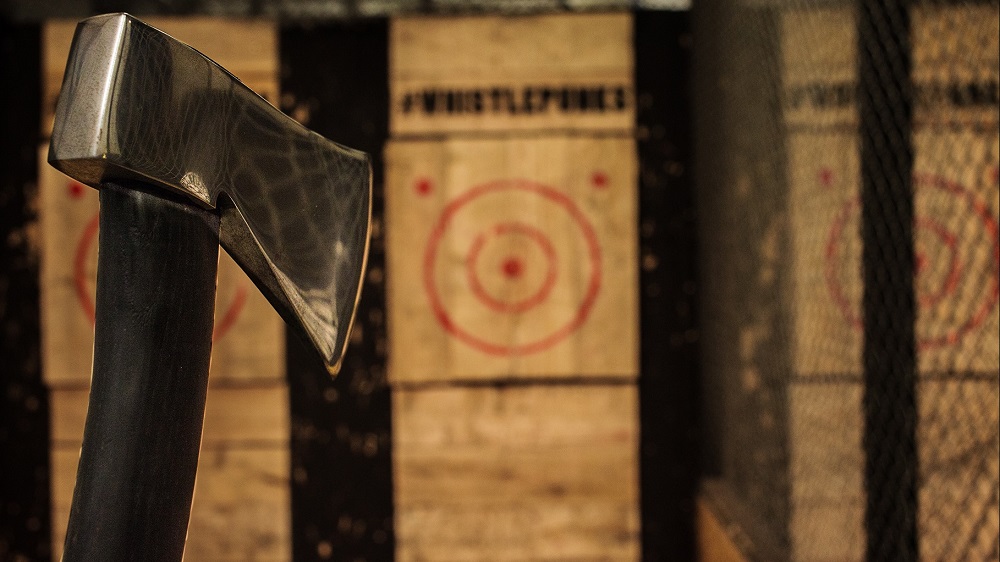 Ever fancied embracing the lumberjack life and getting away from it all? How about channelling your inner Wolverine? Whatever your reasons for slinging axes, there's plenty of fun to be had at Whistle Punks in Bristol. With trained instructors ready to get you throwing trick shots in no time, it's perfect for everyone from complete beginners to those with a few strikes under their belt. Feeling a little peckish after all that excitement? They've got a fully a licensed bar and delicious pizza on the menu, perfect for refuelling after an axe session. And after all, there's nothing as effortlessly cool as axe throwing! Interested? Of course you are. Who wouldn't want to summon their inner Viking? Check out their website to find out more.
Where: Unit B, the Programme, All Saints' Street, Bristol, BS1 2LZ
Cost: £20 per person (off-peak)/£28 per person (peak)
Age: 18+
Flight Club
Flight Club Darts has flown into Bristol city centre, boasting a modernised version of darts complete with free-flowing cocktails and sharing plates, offering the ultimate competition between you and your mates! With tracking technology and an instant scoring system, you don't have to worry about keeping score, and can focus on their delicious drinks and hitting the bullseye! Regardless of whether you're an expert darts sniper or total beginner, there's loads of fun to be had (loser gets the next round, did we hear?), and their quirky interior and fairground aesthetic is perfect for your Insta stories. This sleek new venue is a must-visit on the Bristol scene, so make sure to check it out! Find out more information via their website.
Where: 41 Corn Street, Bristol, BS1 1HT
Cost: £14 for 60 minutes and £20 for 90 minutes
Age: 18+
Rumble Jungle
Looking for a mini golf experience to remember? Then why not check out Jungle Rumble in Bristol, the amazing indoor adventure-filled mini-golf experience is bound to spice up your nights out! With two eighteen-hole courses and a fully stocked bar, there's loads of fun to be had! Maybe you'll test your mettle on their Swamp course, crammed with crocodiles, marshes and other surprises? Or maybe their Jungle course is more your style? Complete with ambient rainforest sounds, jungle critters and their famous walk-through volcano cave, there's loads of twists and turns to challenge your golfing prowess! What are you waiting for? Pick up your putters and play! Be sure to visit their website to book your next round.
Where: Cabot Circus, Glass Walk, Bristol, BS1 3BQ
Cost: From £5 per person
Age: 18+ after 8pm
Lane7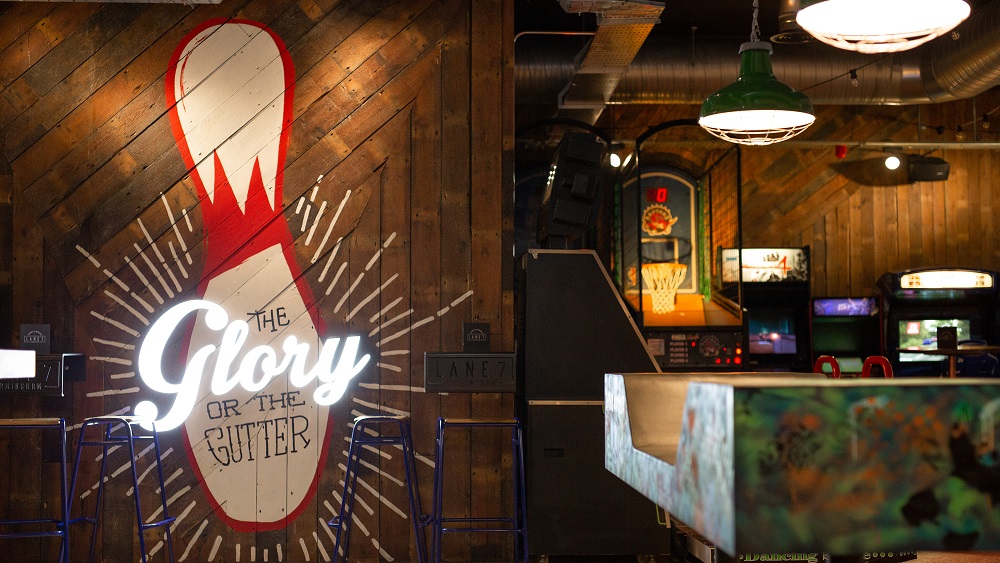 The Lane7 franchise has landed with a bang in Bristol! If you've not heard of them yet, you're in for a treat! Boasting everything from bowling, darts, pool and ping pong, there's loads of things for you to try – you can put your crazy skills to the test and challenge that mate that keeps going on about their perfect bullseye! If classic arcade games are more your style, give their shooting pods a spin, and if you love anything that combines drinks and drama, flex your abilities on their beer pong table. Heard of shuffleboard yet? Whether you're a seasoned pro or a complete beginner, check out their shuffleboard table and party all night long at Lane7! Check out their website to find out more.
Where: Millennium Promenade, Bristol, BS1 5SZ
Cost: Bowling is £9.25 for peak and £7.50 for off peak. Pool is £12 per hour. Ping Pong is £7 for 30 minutes and £12 for 1 hour. Shooting Pods are £40 for peak and £30 for off peak.
Age: 18+ after 7pm
Bristol Golf Centre & Pirate Bay Adventure Golf
The Pirate Bay Adventure Golf at Bristol's premier golf centre is perfect for a day out with friends and family! With eighteen holes of crazy golf fun, you can navigate your way past sunken shipwrecks, swashbuckling swordsmen and angry alligators! Put your golfing skills to the test and try to steer through the course. Who knows? If you're lucky, you might stumble across some buried treasure and become richer than your wildest dreams! But if you're not careful, you might be caught in a pirate trap and have to walk the plank! Or why not pay a visit to Bristol Golf Centre's high-tech Inrange® driving range booths? Master your swing whilst playing unique virtual games with your mates. Or if you're looking to get down to business you can use Inrange®'s ball tracking technology to breakdown down your next winning golf swing. You can discover more about both amazing attractions via their website.
Where: Common Mead Lane, Hambrook, Bristol, BS16 1QQ
Cost: Single Player Practice Bay = £12 per hour / Multiplayer Gaming Bay = £29 for the bay, per hour (up to 4 players). Mini Golf is £9.30 per person
Age: All ages welcome
Kong's Bar
Live music and going out – certainly a welcome sight after the year we've all had. And where better to experience it than at Kong's Bar in Bristol? Packed with all sorts of tabletop games for you to burn off some steam with your mates over a pint or two, they offer table tennis, table football, arcade machines and pinball machines! There's loads to get you in the gaming mood! If you're a beer connoisseur, Kong's also offer a taste of craft beer that's hard to beat. Feeling peckish? They've also partnered with local kebab stop Hoba, serving up Berlin inspired chargrilled kebabs, crammed full of local ingredients and big flavours. Sound good? We thought as much. To plan your next big night be sure to take a trip over to their website.
Where: 13-15 King Street, Bristol, BS1 4EF
Cost: Foosball 50p per game of pool, arcade machines £1 per game
Age: 18+
Felson's
Fancy yourselves cool and collected pool players? Think yourselves as being good under pressure? Get yourselves down to Felson's in Bristol to test out your pool skills for yourselves – a 1950's inspired hot spot complete with stylish designs, great food and delicious drinks. Are you good enough to embody the spirit of the titular Fast Eddie Felson, the Hollywood eightball-stick hero who was never afraid of a challenge? We're sure you can live up to the hype. Prepare yourselves for the pool game of your lives – it may not be for tens of thousands of dollars like in the movies, but it can at least be for a round or two of drinks. Check out their website to get started.
Where: 1st Floor, 40 Corn Street, Bristol, BS1 1HQ
Cost: £10 an hour for Pool, £5 an hour for shuffleboard